The working class has Fords and Chevys and Dodges. Many a tooth and velvet Elvis painting has been lost in disputes over which brand is best.
The wealthy among us, on the other hand, drive BMWs and Mercedes and Porsches. Those owners don't have time for such primitive proletarian passions. Their luxury vehicles are merely fashion accessories befitting their esteemed status as CEOs, doctors and trophy wives.
Or so you might think.
The 132,641 luxury vehicles registered in the Indianapolis area represent only about 12 percent of total passenger vehicle registrations. Yet their owners are often passionate about the cars. They gather on weekends for show-and-shines and for events that benefit charities—just like the middle class and their restored muscle cars.
Often, they buy these high-end vehicles for safety, for racing on road courses, or for an appreciation of the ahead-of-their-time engineering. Some buy them for sentimental reasons after living with them overseas while in the military.
Enthusiasts put up with quirky radios, high insurance costs and timing-belt replacements that can require the entire removal of an engine every five years. They've learned to find independent mechanics to cut the cost of maintenance.
Of course, there are some brands such as Ferrari—just 86 registered locally—where exclusivity comes with a big price and the reality that they will never be "daily drivers."
"What I tell folks all the time is, these are not transportation," said 1991 Ferrari 348 owner Mike Langley, of Indianapolis. "They're a hobby."
——————————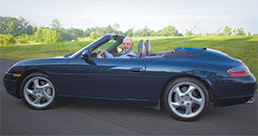 Steve Tarr with his Porsche 911 Cabriolet. (IBJ Photo/ Aaron P. Bernstein)
Steve Tarr
Zionsville
Porsche 911 Cabriolet
Steve Tarr has owned Nissan/Datsun 240Zs and 280Zs. Even an SLK Mercedes.
Still, he craved the "timeless design" of a Porsche 911.
He couldn't afford a new one, but was able to buy one from a college president in Michigan at a good price. It had about 53,000 miles on the clock and was all-wheel-drive. This wouldn't be a wintertime garage queen.
"I'm one of those guys who has a car and drives mine every day. I like it because I can drive it all year round."
You can pick up one of these for around $20,000. As long as it has less than 100,000 miles, odds are you can finance it without donating a body part as collateral.
That's if the repair costs don't scare you off.
"People say it costs a lot of money to maintain them. It just depends."
For one thing, there are actually a lot of very qualified mechanics around the region besides the guys down at the dealership, he said.
Tarr is just as likely to drive his Porsche down the street to pick up a quart of milk as he is to drive it out to Putnam Park in Greencastle for some track time. Tarr and other members of the Central Indiana Porsche Club also enjoy taking them out for charity benefits. Last month, the club hosted its third annual car show in Zionsville that donated proceeds to Alzheimer's research.
"These cars are designed to be run. You have to get these out and drive them."
——————————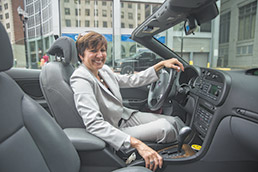 Allison Barber and her Saab 9-3. (IBJ Photo/ Aaron P. Bernstein)
Allison Barber
Indianapolis
Saab 9-3
The chancellor of Western Governors University Indiana is on Saab No. 8.
Sadly, it's probably her last.
Allison Barber and others of the Saab faithful are still mourning the recent demise of the Swedish company known for quirky cars. Take, for example, the ignition located not on the dash but on the floor of the front console. Or Saab's use of turbochargers before they became commonplace.
"I think it was the understated power and I love that. Nobody really knows what a Saab can do unless you drive one," she said.
Barber was in college in eastern Tennessee during the 1980s and knew she'd soon need a car.
"My mom said to me, 'Hey, have you ever looked at a Saab? They're the most unique car on the road.'"
She kept a poster of a black Saab on her wall until she could afford one. Her father was working in Connecticut, where Saabs are a dime a dozen, and found her a good deal. "That started my love affair with Saab."
Barber still has the trash bag that came with her first Saab.
After the former General Motors Corp. subsidiary went bankrupt in 2011, Barber's husband suggested she buy a new Saab while she still could. But she figured eight is enough. She plans to keep her convertible going as long as it's practical.
And, yes, Saabs do have problems, such as a "radio system that stinks."
But, she added, "You put up with it."
——————————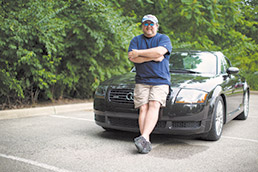 John Wilmoth with his Audi TT Quatro. (IBJ Photo/ Aaron P. Bernstein)
John Wilmoth
Indianapolis
Audi TT Quattro
In the 1950s and 1960s, Detroit automakers touted, "Win on Sunday, sell on Monday." Who knew racing wins also worked for Audi sales?
Race fan John Wilmoth took note of how Audi teams were tearing up LeMans and winning rally cup races, almost predictably. "I thought, 'my gaawd, those guys run like clockwork.'"
"I was fascinated at the amount of engineering and detail."
So when it was time to replace his all-wheel-drive car, he went to look at a used, 2002 Audi TT, which has the company's "Quattro" drive train. "I went to test-drive on the TT and it followed me home."
He added about 55 more horsepower by installing a new computer chip, a free-flowing exhaust and better air intake. Not only is it his daily driver, but Wilmoth takes it racing, recently returning from the SCCA Sprints at Road America in Wisconsin. He has three sets of wheels to bolt on, depending on the venue.
The software engineer and contributing photographer for Sports Car Magazine perhaps has had the most fun on the track by smoking Porsches at Putnam Park Road Course in Greencastle. "I was passing all these Porsches. They were so upset."
One frustrated Porsche driver demanded to know from a track official, "How did he do that?"
Quattro helped, but you also have to know how to drive. Said Wilmoth, sounding like blind Master Po in "Kung Fu": "With smoothness comes speed."
——————————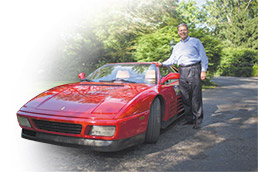 Mike Langley with his Ferrari 348. (IBJ Photo/ Aaron P. Bernstein)
Mike Langley
Indianapolis
Ferrari 348
Mike Langley's 1991 Ferrari 348 isn't the newest or most historic to have gathered downtown June 23 for Ferrari Club of America's benefit for Ronald McDonald House.
But to watch him polish the hood, one can tell this Ferrari is one of the most appreciated by its owner.
"This is my first and only Ferrari," said Langley, of Indianapolis, inviting a 9-year-old girl gawking at the 348's red paint to go ahead and have a seat at the wheel. The kid lets out a smile as wide as the Ferrari's rear tires.
Langley, "a car nut all my life," only a week earlier had taken his BMW (a Daewoo Leganza, by comparison) to a local car show to hang out with enthusiasts. He's the second owner of this red 348, having bought it from a lady he points to a few rows away after she apparently sold a kidney to buy a newer model.
His 348 has "only" about 300 horsepower, close to that of a family performance sedan and half that of a new Ferrari. But it sticks to curvy roads like marinara sauce to a white shirt. Langley, in fact, puts about 2,000 miles a year on the car, thus can tell you its quirks. For instance, the timing belt needs to be replaced about every five years. Because the belt is in the inaccessible forward part of the engine, the rear subframe and engine have to be dropped to get to it. Ohi (ouch)!
Indianapolis hasn't a dealer for new Ferraris, but there are good mechanics in town who can perform the intricate procedure, he said. "What I tell folks all the time is, 'These are not transportation, they're a hobby.'"
——————————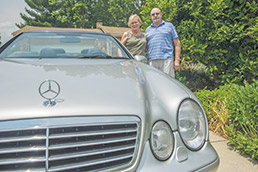 David Swenbyy and his Mercedes CLK 430 Cabriolet. (IBJ Photo/ Aaron P. Bernstein)
David Swenby
Noblesville
Mercedes CLK 430 Cabriolet
No, David Swenby is not a real estate agent. Nor is he one of those old-money types. Swenby is retired military and began to appreciate Mercedes cars while stationed in Germany.
His first was a 1962 190 diesel. He's owned three other Mercedes since then (one of them was totaled), the latest a CLK 430.
While driving 158 mph on the Autobahn "is a lot of fun," one of the big appeals for Swenby is safety. "I've been in car accidents with multiple vehicles and the one I feel safest in is my Mercedes. I told my wife I'd never drive anything but a Mercedes again."
Swenby is also president of the 134-member Indianapolis 500 section of the Mercedes Benz Club of America, whose members do everything from taking trips to wineries to holding defensive driving classes to helping teens hone behind-the-wheel skills.
One gets the sense Swenby is wary of the "wealthy" stigma associated with Mercedes Benz vehicles in America.
"We're not showing off," Swenby said repeatedly. Besides safety, it was durability that won him over. "The Mercedes is really not broken in until you have 250,000 miles."
Quirks? Well, maintenance can be pricey. Swenby often changes his own oil to keep the costs down. That's also part of the enjoyment.•
——————————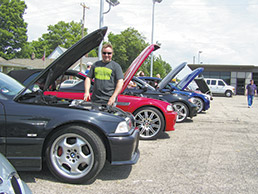 Bill Tallent with his BMW M3. (IBJ Photo/ Chris O'Malley)
Bill Tallent
Indianapolis
BMW E36 M3 , BMW 540i, BMW Z3
Bill Tallent became a BMW believer while a teen in the 1980s. Affordable domestic cars back then were mediocre offerings the likes of Chevrolet Cavalier and Ford Escort.
"Small always meant cheap, poor quality," said Tallent, now in his 40s.
BMWs, on the other hand, not only were compact and well-engineered but offered the sporty handling of rear-wheel drive. "They [BMW] looked at everything. It looks good. It drives good … I just thought—that's it."
So what did Tallent do when he got some money? He bought a used 850 (the one with the flip-up headlights). The 12-cylinder car was underpowered for its size, just as BMW enthusiasts had warned him. "It took a few months for the disappointment to set in, [but] you buy the car you always wanted."
Today, the engineer at AT&T has three BMWs, including an immaculate, 1998 3-series coupe he drove on a recent Saturday to Reggie's Motorworks, in Noblesville, for a BMW Club group outing.
These aren't the pretentious types who deem a BMW a mere fashion accessory. Nor are they cutthroat lawyers who use the agile cars to surgically insert themselves ahead of other motorists just because they can. Rather, many of the club's members brought older models they lovingly restore or modify and appreciate.
Take Steve Bailey, the club's secretary, who marvels at the engineering in the 1980s 5-series he brought to Reggie's. He recalled his sister's amazement that his older BMW had a trip computer. "She said, "They had those in 1983?'"•
Please enable JavaScript to view this content.