Residential construction is booming in The Village of West Clay, the already-sprawling Carmel development designed to mimic small-town life at the turn of the (last) century.

Builders filed 60 residential permits in the first half of 2013, city records show, up 46 percent from the same period last year. Estimated construction costs so far this year top $17 million.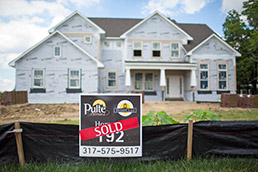 Only about 100 homesites remain in the 1,700-unit community. (IBJ photo/ Aaron P. Bernstein)
Not bad for a neighborhood established more than a decade ago—before the bottom dropped out of the luxury housing market, slowing sales and all but halting commercial development in the Village.

"I don't think anyone can argue that it hasn't been successful," said Steve Lains, executive director of the Builders Association of Greater Indianapolis, which is hosting its annual Home-A-Rama show there this fall. He called the ongoing construction "a testament to the developer's ability to keep it moving forward, even in the worst economic times any of us have seen."

Of course, not everything has gone according to Brenwick Development's ambitious plans. Two commercial nodes in the community remain largely undeveloped, and one property owner's recent legal woes led to several high-profile vacancies that have yet to be filled.

"I think everyone here would rather have the commercial [development] completely done," acknowledged Brenwick President George Sweet. "But the people weren't here, so we couldn't sustain it."

Now, with only about 100 home sites remaining in the 1,700-unit community, and with other neighborhoods taking shape nearby, Sweet said momentum is shifting.

The owners of Brockway Public House on Old Meridian Street in Carmel are finalizing plans to build a microbrewery and tap house in Village Center Shoppes, for example, and Brenwick just sold a parcel in the Uptown retail district to an investor who plans to bring in a gas station—already an approved use at the site southwest of Main Street and Towne Road.

"We thought commercial would be last, and that appears to be the case," Sweet said. "When we started, we were in the cornfields."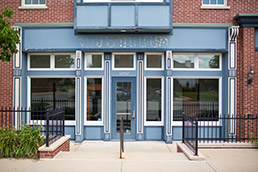 The village's commercial component has several high-profile vacancies. (IBJ photo/ Aaron P. Bernstein)
Sweet and partner Tom Huston started working on the 680-acre development in the late 1990s, when the so-called "new urbanism" movement was in its infancy. They imagined a self-contained community with a range of housing options and plenty of reasons for residents to get out and walk around.

Brenwick has spent $18 million on amenities, including neighborhood parks, recreation facilities and a three-story Greek Revival meeting house.

About 35 mostly custom builders have completed projects in the neighborhood, which has unusually strict architectural requirements that harken back to the late 19th and early 20th centuries. Sales prices range from $150,000 townhomes to $3 million estate homes.

Townhomes have proven especially popular, Sweet said, prompting Ryland Homes to plan another nine, four-unit buildings in the Village center. Most of the remaining single-family sites are pricier estate lots.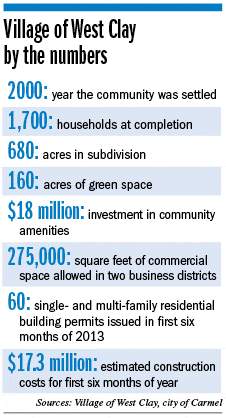 Houston-based David Weekley Homes started building in the newer West Village of West Clay section west of Towne Road in October and had sold 23 properties by the end of June, said local Division President Michael Luedke. The high-end production builder has another dozen lots waiting in the wings.

The average selling price so far: $400,000.

"It's a niche product in a desirable location," Luedke said. "It has done very well for us. We came in at the right time."

Buyers of all ages have been drawn by the small, low-maintenance lots, he said, as well as old-school touches like rear-load garages on alleys. The neighborhood's walkability has been another selling point.

"It is very much a lifestyle community," Luedke said, and the central commercial district is part of that charm despite its slow growth.

Businesses include a candy shop and a gift basket shop, Pilates studio and fitness club, beauty salons and investment advisers. Classic Cleaners had enough success in rented space that the dry cleaner moved into its own Village building.

Other enterprises have come and gone, victims of the recession and a site that lacks the visibility of high-traffic commercial corridors such as Michigan Road, a short drive away.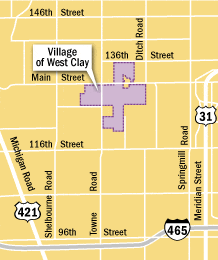 BAGI's Lains said in retail circles, the "location, location, location" real estate mantra essentially is shorthand for three important considerations: visibility, demographics and rooftops. But in neighborhoods like the Village of West Clay, visibility takes a back seat to the other factors.

"The whole idea is that, as the development grows, visibility isn't the primary driver," he said. "It's the people. Residents use the businesses in their neighborhood. That's what makes the Village of West Clay unique and pioneering."

Brenwick brought in locally based Ambrose Property Group to handle commercial sales and leasing in 2011. Broker Joe Lonnemann said the economic downturn hindered activity, but interest is picking up as business owners—and consumers—gain confidence.

"Residents do a great job of supporting the Village businesses," he said. "The properties under solid ownership are doing very well, have low vacancy rates."

But three buildings in The Village Center Shoppes are in flux as a result of owner CFS Inc.'s legal woes. In February, the Indiana Secretary of State Securities Division accused CFS and principals Charles Blackwelder, his son Chad Blackwelder, and his daughter Cara Grumme of securities fraud.

A court-appointed receiver is overseeing CFS investors' assets, including the Village properties that formerly housed Harvest market, Chappie's restaurant—both run by members of the Blackwelder family—and Pamfilio's Italian Restaurant.

Brenwick sales consultant Judy Berthold said several local and national restaurants have expressed interest in the stand-alone Harvest building, at the corner of Horseferry Road and Bird Cage Walk, across from the West Clay sales and information center (and Brenwick's headquarters).

Receiver Mary Slade of Carmel law firm Drewry Simmons Vornehm LLP declined to comment on the status of the properties.

The higher-visibility Uptown district has four established businesses: a preschool, two banks and a striking Art Deco CVS pharmacy. The planned gas station is going through an architectural review process and could open later this year, Sweet said.

Ambrose's Lonnemann said the area's upscale demographic is a selling point, along with its recent population growth.

"The upward trend tells a great story," he said. "Commercial development makes a lot more sense now."

City officials likewise are pleased with the Village of West Clay's progress. Mayor Jim Brainard often takes visitors on tours of the neighborhood to showcase the new urbanism design principles that also are influencing development (and redevelopment) in downtown Carmel.

"It really has been a high-performing subdivision, even during the recession," said Mike Hollibaugh, director of the city's Department of Community Services, which oversees planning and zoning. "The numbers have been impressive."

Indeed, the 46-percent jump in home-building permits issued the first half of this year outpaces the 26-percent increase throughout the nine-county Indianapolis area, according to BAGI statistics released this month. In fast-growing Hamilton County, permits were up 22 percent.

Brenwick has developed more than two dozen communities in its 30-plus years, but Sweet said the Village is its crowning achievement—at least so far.

The company has other projects in its pipeline, but at 72, the Carmel resident isn't sure how long he'll remain at the helm. For now, he's focused on 2016, when he thinks work in West Clay will be done.

"At my age, I'm not interested in another 20-year run," he said. "Or even 10."

He credited Huston for the visionary concept and the sales staff for bringing to life a community he thinks will stand the test of time.

"When you plan something, the reality sometimes is very different. This is close," he said. "It has been tough because of the economy, but this has been a joy."•