Indianapolis-based United States Infrastructure Corp. just changed hands for the third time in five years—but not because it's a hot potato nobody wants.

Quite the contrary, as the latest sale price—nearly $1 billion—demonstrates. This old-school, relatively low-tech business has strengths, such as market dominance in an industry with high barriers to entry, that give private equity investors an adrenaline rush.

The company is the No. 1 provider of underground-utility-locating services in the United States. And with revenue of more than $450 million, it's quadruple the size of the No. 2 player, a unit of Florida-based Dycom Industries.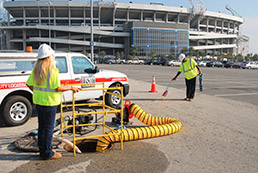 USIC crews can mark underground utilities for several clients during a single service call. (Photo courtesy of United States Infrastructure Corp.)
You've probably seen USIC's trucks around town. Or if you've planted a tree or had other reasons to stick a shovel in the ground in your back yard, the company's workers probably have been on your property, spray-paint can in hand, marking the route of electric, phone, gas, cable or other underground utilities.

USIC has 5,000 employees (including 100 at its River Road headquarters) who will conduct 45 million utility locates this year in 30 states and one province of Canada.

It has more than 700 contracts with utilities, which outsource the work because USIC provides reliable service at a lower cost, said CEO Michael Stayton, who served as director of the Department of Public Works and Enterprise Development under Mayor Steve Goldsmith.

But the biggest savings come from having contracts with multiple utilities in the same territory, avoiding the need for each utility to send out separate crews to do essentially the same work.

"It is a highly defensible business because, once we get two customers or more per truck stop, and we average closer to three, we have a huge cost advantage," Stayton said. "If someone else comes in and bids on that work, they're going to have just one customer per truck roll, against our three."

USIC might be an under-the-radar business to locals, but it's an object of envy in private equity circles. The latest PE buyer is Los Angeles-based Leonard Green & Partners, which this month teamed with management to buy USIC from OMERS Private Equity, an affiliate of one of Canada's largest pension plans.

Terms weren't disclosed. But a report by Moody's Investors Service pegged the price at $905 million—$595 million in borrowed money and $310 million in equity.

OMERS three years ago bought it from New York-based Kohlberg & Co., which acquired it in 2008 from The Laclede Group, a natural gas utility in St. Louis. Kohlberg's brief ownership was so successful that the private equity firm to this day uses it as a case study on its website.

"We have been a victim of our own success," said Stayton, 67. "We have increased the value enough that [the private equity owners] can cash out."

Few would have imagined the potential for the business at its humble start, as SM&P Utility Resources Inc. Indianapolis' Baker family founded the firm in 1973 to dig trenches and lay cable for Indiana Bell. But in 1979, the telephone company asked SM&P to handle overflow underground-line-locating work, a sideline that soon became its main business.

"To the best of my knowledge, we were the first contractor to do the locates for a utility company," former SM&P executive Steve Baker recalled. "It had always been done in-house by utility employees themselves."

In 1993, with SM&P operating throughout the Midwest and generating $23 million in revenue, the Bakers cashed in, selling the business to locally based IWC Resources Corp. for more than $18 million in cash and stock. IWC later was acquired by Merrillville-based NiSource Inc., which in 2002 sold SM&P to Laclede for $38 million.

That was a disappointing turn of events for Stayton, who was running SM&P at the time. He had teamed with Kohlberg to make a run at acquiring the company but was outbid.

Stayton then headed to Rome to serve as chief operating officer for the United Nations World Food Programme, working alongside Executive Director Jim Morris, the former CEO of IWC Resources Inc., who had hired Stayton to run SM&P in 1995.

When Stayton returned in 2007, SM&P was up for sale again—and this time he and Kohlberg were able to prevail with an $85 million bid.

But Stayton was thinking bigger. SM&P had languished under Laclede and slipped from No. 1 to No. 2 in the market. That same spring, he restored it to No. 1 by buying the No. 3 player, Philadelphia-based Central Locating Service Ltd.

The combined company, which adopted the USIC moniker that year, has since added to its dominance with a handful of smaller acquisitions and through its 2011 purchase of the No. 4 player, Nebraska-based Consolidated Utility Services.

USIC continues to expand into Western states and Canada, though Stayton said opportunities to land new contracts with utilities are diminishing as a result of union restrictions that prevent many of the remaining potential customers from outsourcing.

As a result, USIC is beginning to diversify, tapping its existing utility relationships to provide new offerings. Those include connecting and reconnecting service, as well as providing risk-management to natural gas utilities, which are facing new federal regulations in the wake of high-profile explosions.

USIC's massive customer base gives it an enviable foot in the door as it rolls out those new services.

But the company's success isn't all about size. Morris, now president of Pacers Sports & Entertainment, said utilities wouldn't entrust USIC with high-stakes work like locating underground lines if it hadn't established a reputation for quality.

"The most important thing to a utility is, you get it right, and you don't cut the service line and get a service interruption," he said.•