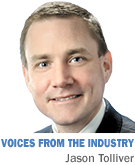 Availability of credit is one of the most fundamental issues facing small businesses, and small businesses are one of the most crucial drivers of commercial real estate demand.
Thankfully, both the financial markets and the economy are not where they were just a year ago, as they have strengthened considerably to the point where it is finally starting to look like a real recovery for central Indiana commercial real estate.
But if we are to see continued improvement in the property markets, we must also see lending to small businesses improve.
The takeaway is clear: There is nothing small about the impact small-business lending has on both the economy and commercial real estate.
Small businesses, which largely rely upon banks for credit, were especially hard hit by the recession. Throughout the country, access to needed capital for smaller enterprises became increasingly rare as lending to this pool declined by a much greater percentage than total business lending following the onset of the financial crisis.
Fortunately for the property markets, lending conditions now seem to be warming after five years of a stubborn chill. Though financial institutions remain hesitant to embrace lower-quality applicants, they are increasingly willing to lend to both smaller business and commercial real estate.
In fact, according to the most recent Fed Senior Loan Survey, lending standards are now as loose for small firms as they have been in the history of the survey and not far off for larger firms and commercial real estate. This is welcome news because the Hoosier real estate sector will fall far short of potential if lending conditions cool.
Accommodating monetary policy has been one of the main forces supporting growth both here and abroad. Central banks around the globe have not only maintained low interest rates, but have also experimented with programs aimed at decreasing rates in particular markets, at helping particular categories of borrowers, at helping financial intermediaries in general, and at increasing the money supply by flooding financial institutions with capital in an effort to promote increased lending and liquidity.
The hope of the Federal Reserve has been that, by showering the financial system with even more credit, banks would be emboldened to begin lending.
During the latter half of 2012, the major U.S. banks finally completed the arduous task of post-financial crisis balance sheet repair. Meanwhile, Indiana's state-chartered financial institutions have slowly regained their pre-recession asset ratios and are now on much stronger footing.
Increasingly, banks are focused on using their improved balance sheets, provided they have enough clarity to feel comfortable lending.
Until recently, banks have not had the clarity needed to feel comfortable enough to lend, particularly to smaller businesses. Why the reluctance? Basel III, Dodd-Frank, lawsuits related to the LIBOR scandal, $1.7 trillion in commercial real estate debt that is set to mature by 2016, the euro crisis, slowing global growth, and uncertainty surrounding fiscal policy all have caused banks to safeguard against a multitude of scenarios.
Uncertainty remains, but banks of all sizes are increasingly willing to look with favor upon small-business applicants.
Improved clarity has also emboldened more businesses and investors to borrow. Important for commercial real estate, banks of all sizes now report strong demand for loans to buy commercial real estate. That level of demand per debt is actually stronger than what we witnessed in the last commercial real estate boom and slightly lower than the tech boom of the late 1990s.
Although challenges remain, the economy is as solid as it has been at any other stage in this recovery. Corporate profits remain healthy, household balance sheets look as solid as they have been in over a decade, and even the federal debt is showing signs of stabilizing.
But perhaps nothing is as important, or promising for the property markets, as improved lending for Hoosier small businesses.•
__________
Tolliver is regional vice president of Cassidy Turley. Views expressed here are the writer's.
Please enable JavaScript to view this content.