2-99 EMPLOYEES
Summit employees hit the gym, find themselves in a healthier place
Participating in Indiana Sports Corp.'s Corporate Challenge event was Summit Realty's first step in starting a wellness program. (Photo provided)
Summit Realty Group's move in 2011 from leased space in Chase Tower downtown to its own headquarters building one block away was based on the kind of savvy dollars-and-cents calculation you'd expect from a commercial real estate firm. Who knew it would also result in a healthier staff courtesy of Summit's new in-house fitness center?

Summit, founded in 1993, developed its fitness culture early on, said Tom Hadley, an executive vice president and partner in the firm who leads the company's wellness initiative. But the new building helped with buy-in from the entire company. "It took us from a culture of fitness to ownership of our fitness," Hadley said.

The fitness center, staffed six days a week by a full-time fitness instructor, is the big draw. "Even our management staff who work off site will come by the building to use it," said Hadley.



The fitness instructor offers complimentary 30-minute fitness sessions six times a week, but employees and their family members can pay a reduced rate for hour-long personal training sessions as well, and almost a third of Summit's 67 employees take advantage of that, said Hadley, who has shed about 20 pounds courtesy of Summit's wellness program.

Summit began the climb to a robust fitness program about six years ago when it entered a team in Indiana Sports Corp.'s Corporate Challenge, an annual competition in Indianapolis where companies test their sports and fitness prowess against other firms.

Now the competitive streak has spilled over into the office, where, health-privacy concerns aside, employees regularly compare "cardiac ages." A quick, finger-prick blood analysis tells employees how their cardiac age compares to their real age, and those who get a good result aren't shy about sharing it.

Rhonda Beiswanger, an administrative assistant at Summit, has shaved years off her cardiac age.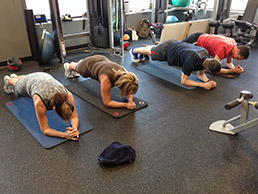 Summit's employees can take yoga classes twice a week in their new in-house fitness center. (Photo provided)
At the age of 48, she already boasted a cardiac age of 32, but after exercising and a year of paying more attention to eating habits, she just got news that her cardiac age is down to 18.

"I was so excited," said Beiswanger, who credits most of the improvement to watching what she eats. "Instead of eating cookies, now I'll grab an apple."

Beiswanger said that before she jumped on Summit's wellness bandwagon she ate a lot of junk food and never worked out. Good genetics kept her in pretty good shape in spite of that, she said. "But I knew as I got older that things would start to change." So she began taking advantage of Summit's in-house circuit training and yoga classes.

Those yoga classes are offered twice a week. A circuit training class is offered three times a week, and each month the company raffles off three personal training sessions.

Not all of the action at Summit takes place in the gym. Far from it. Biweekly wellness communications are emailed to employees and posted at various locations around the office. There are on-site, quarterly wellness seminars held on company time and wellness challenges that involve tracking of individual fitness goals and objectives.

Employees don't have to work hard to make healthy choices while they're in the office. Summit offers filtered-water stations, food prep areas, fresh fruit, outdoor break areas and encourages walk-and-talk meetings to integrate fitness and work.

The rewards for participating in the wellness program vary, but one is universal: Summit contributes $75 a month to each employee's Health Savings Account. Employees are eligible for an additional $50 a month if they walk an average of 5,000 steps a day, use the gym twice a week for an entire month or take advantage of personal training once a week in the month.

Summit's insurer, American Health & Wellness Group, handles regular health screenings and administers a personalized wellness website for every employee.

"They've been a wonderful resource," Hadley said, recalling how Summit and AHW began working more closely on the wellness program after representatives of both firms ran into one another, by chance, at the breakfast held every year to honor finalists in the Healthiest Employers competition.•