100-499 EMPLOYEES
Decatur County hospital employees set a good example for their neighbors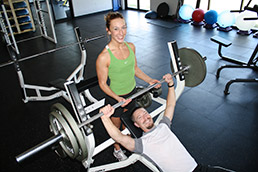 Hospital employees are eligible for reduced-price memberships at two Greensburg health clubs. (Photo provided)
Hospitals employ caregivers, but that doesn't mean members of a hospital staff are especially good at caring for themselves. That was the case at Decatur County Memorial Hospital, where employees are now more mindful that good health in Decatur County starts with them.

The wellness program itself probably isn't much different than a program at any employer, said Amy Wickens, executive director of human resources for the hospital. But a hospital program is arguably more important, she said. "We need to be the role model for the community."

That wasn't the case in 2009, when Decatur County Memorial started with a bare bones program: Do a biometric screening and get a $10 gift card. But the program has grown since then, starting with the addition of employee spouses to the program. Spouses, said Wickens, were driving a lot of the hospital's claims costs.

That change has made a big difference in the life of Curtis Borgman, 33, whose wife is a practice manager at the hospital.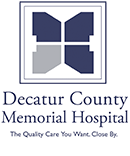 Borgman, who weighed more than 300 pounds at his first health screening, has lost about a third of his weight since starting his diet last Jan. 21. He did it the old-fashioned way, by watching what he eats and getting plenty of exercise. Before the diet, Borgman was a "plate cleaner." Now he eats less and runs a few miles four or five times a week. His new goal is to maintain what he's lost.

With spouses added, Decatur County Memorial decided to take another step forward by hiring Spectrum Health to run its wellness program. Spectrum provides an onsite wellness coordinator who keeps office hours at the hospital.

It was an accident that the wellness coordinator's office is on the path to the employee cafeteria, but it was a good coincidence. It's just one of the things that has helped hospital employees become more conscious of what they're eating and their overall well-being, Wickens said.

The hospital's emphasis on fresh food starts with an on-site garden, now in its third year. In the first year of the garden it was planted and maintained by the wellness committee. The second year, responsibility for the garden was parceled out to various departments. This year, Wickens said, employees have taken over with no prompting.

Tending the garden is one of the wellness activities worth a "punch" on the DC Fit punch card, which can earn employees up to $30 a month off health care premiums. Hospital management offers the flexibility employees need to earn those punches, encouraging employees to spend time in the garden and engaging in other wellness activities during work shifts. They can weed, water and harvest the garden at any time. Fresh vegetables are delivered to the wellness coordinator for distribution, and the hospital's staff dietician sends out a recipe of the week.
Decatur County Memorial Hospital employees can weed, water and harvest the garden at any time. When they do, they get a punch on their fit card. (Photo provided)
Employees can also earn a punch by picking up trash along an adjacent road the hospital has adopted. This serves Decatur County Memorial's dual mission of serving the community and helping employees.

Gardening and picking up trash have become habit-forming for some of the hospital staff. So has skipping the elevator and taking the steps in the three-story building. That, Wickens said, is a direct result of one of the wellness program's most popular challenges: The Journeys to Health Stair Challenge. "Our stair challenge went like gangbusters," Wickens said.

Employees organize teams that are challenged to scale the equivalent of five buildings. The first is easy: the hospital itself, with its 333 steps. But then the challenge gets tougher. Team members log their stair-climbing until they've climbed enough to have reached the top of the Eiffel Tower, with 1,665 steps; the Empire State Building, 1,860 steps; Willis Tower in Chicago, 2,219 steps; and Burj Khalifa, a building in Dubais that, with 2,909 steps, is the tallest building in the world.

The stair challenge, besides providing a bit of a geography lesson, is a great example of an activity that doesn't cost the hospital or its employees money, Wickens said. Pictures of the buildings are posted around the hospital and everyone gets a tracking sheet to record their progress. The team structure means there is peer pressure to succeed, which might explain why it's not unusual for participants to show up evenings and weekends to climb the stairs.

Collectively, hospital employees had lost 878 pounds as of September 2012, saving an estimated $90,000 in health claims.

Decatur County Memorial's wellness program isn't all about getting the heart pumping. Employees are coached to pay attention to the environment and to their mental and financial health as well. Its periodic Live-and-Learn sessions offer instruction on a variety of wellness topics. Harrison College gave a session on the importance of continuing education, for example.•