500-1,499 EMPLOYEES
Draper Inc. brings wellness on­­-site with amenities, fitness challenges
One of Draper's fitness challenges ended with a bike giveaway. (Photo provided)
Draper Inc. is on the edge of Spiceland, a small town about 40 miles east of Indianapolis. Which is a nice way of saying that the company is located between two cornfields. That means Draper has to bring fitness to its employees.

Almost everything Draper does in the name of employee wellness happens on-site, said Linda Brinson, safety and wellness director for the company, which makes window shades, gymnasium equipment, projection screens and lifts.

When the 111-year-old company started it's wellness program seven years ago it immediately installed an on-site clinic and partnered with Henry County Memorial Hospital to staff the clinic with a physician, a nurse practitioner and nurses. It's full service, five days a week, and for a $10 copay is open to employees' families, which means this time of year the clinic is busy doing school physicals for the children of Draper employees.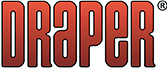 The company made smoking cessation one of its first goals, and brings the program to its employees. Classes are held on site and medications are provided free of charge.

Dawn Jones is one of the employees who has contributed to a 41 percent decline in tobacco use since the wellness program started.

Jones and her boyfriend quit a week apart in the first half of January 2010. She had to stay away from some of her oldest friends because they still smoked and she was afraid she wouldn't be able to resist the temptation. So Jones started spending more time with others in the smoking cessation class. "I had to stay away from the smell completely," she said. "Now it repulses me."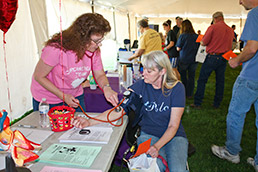 Health screenings are a basic component of Draper's program. (Photo provided)
Jones quit, as it turns out, by replacing one habit with another. Instead of smoking, she walks about five miles a day. She did it initially to ward off weight gain, but now it's part of her daily routine.

She was one of Draper's first Wellness Superheroes. Featured in the company's monthly wellness newsletter, superheroes are nominated by their peers and then held up as an example of the difference the wellness program can make.

For Jones, who now serves on Draper's employee wellness committee, the difference has been financial as well as physical. The $5 a pack she used to spend on smokes has paid for a new mattress, box spring and television. The rest goes into her Health Savings Account.

Draper uses paid time off and other incentives to get employees to participate, but for Jones and many others some of the activities are just plain fun.

Among the most popular activities is Draper's "Walk to Hawaii" challenge. Well over half of the company's 516 employees participated in the quest to walk the 2.4 million steps it would take to get to Hawaii by foot (if one could walk on water). Everyone who completed the challenge was entered in a drawing for a trip for two to Hawaii. A map of the route to the island paradise showed employees where they were on their journey.
This is the second season for the company's on-site garden. (Photo provided)
Draper's wellness program has progressed to the point that it recently added an on-site health coach to the mix. The coach meets with employees about their annual health risk assessment results then helps establish individual health goals and prods them to achieve them. Those who succeed get an additional day of paid vacation.

The coach also helps employees take advantage of an outdoor fitness park, added in 2008, and walking track. While there is no indoor gym at Draper, the company does offer free membership at a nearby gym and reduced price memberships at other gyms in the area.

While Draper employees benefit from healthier bodies, the company itself has seen health claims reduced by 12 percent.

Among the impressive health gains turned in by Draper's workforce are a collective weight loss of 3,000 pounds, a 33 percent reduction in high blood pressure and a 28 percent reduction in the incidence of high cholesterol. Financial classes have reduced collective employee debt by more than $26,000 and resulted in additional savings of more than $10,000.

"We knew when we started the program we were on the cutting edge of something," Brinson said. Company management wasn't certain where the program would take them, but they're happy with the result.•