Renee Ackley, wife of Dalmatian Fire Inc. founder Rich Ackley, is arguably more proud of her Carmel home's outside than its inside. And with reason. When the weather warms up, the couple spends most evenings outdoors around the backyard pool, either sipping wine under a large, furnished canopy (when it's warm) or lounging around a fire pit (when it isn't).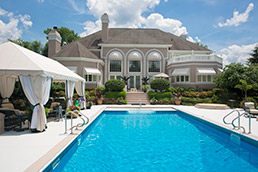 The home is often used to host dinner parties. (IBJ Photo/Aaron P. Bernstein)
The house sits in an exclusive Carmel cul-de-sac, two doors down from the residence of Purdue University President Mitch Daniels and his wife, Cheri. The Ackleys devote a great deal of time to landscaping their two acres, personally putting in many of its plantings.
"It's such a fun yard, and a fun place to live," Renee said.
The piece de resistance is an elaborate "fairy garden," located under a shade tree and studded with tiny buildings and almost-as-tiny plants. Renee did all the work herself.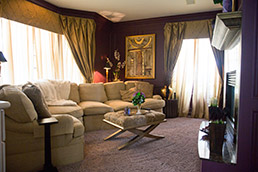 A sitting room off the master suite has its own fireplace. (IBJ Photo/Aaron Bernstein)
"All the many hundreds of figurines that we've collected from around the world are assembled here," she said. "It's been a two-year project and it's finally finished. Though actually it will never truly be finished."
The couple's passion for the outdoors goes back almost as far as their relationship. They began dating during their sophomore years in high school, and Rich often helped out on her parents' farm. He's even toyed with the idea of getting into the landscape business. However, he remains knee-deep in the industry that's both dominated his career and made his fortune—fire protection services.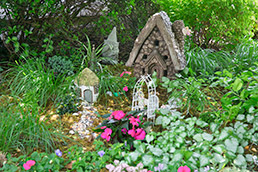 An outdoor fairy garden was installed by Renee Rich. (IBJ Photo/Aaron P. Bernstein)
In 1989, Rich Ackley founded Dalmatian, an Indianapolis-based company that specializes in installing indoor sprinkler systems, mostly for commercial facilities. The company has opened offices in Columbus, Ohio; Louisville; and Cincinnati and produced more than $515 million in fire sprinkler revenue.
When he's off the clock, Rich likes to cocoon with Renee at their 15-year-old, eclectic-style home. They purchased it nine years ago, after it had stood vacant for a while. The Ackleys embarked on a whirlwind rehab that included, to no surprise, installation of a state-of-the-art fire suppression system.
They share the house on occasion with their daughter, Amber, and her 17-year-old son, Brent, when the two visit from Charleston, S.C. The other inhabitants are their pets—two Bernese Mountain Dogs named Ditto and Trouble (each weighing more than 100 pounds) and a slightly smaller cat, Napa.
"The animals are a big part of our lives," Renee said. "They never go to kennels. We have a woman who stays with them every time we travel."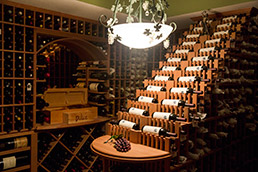 The wine cellar has more than 2,000 bottles. (IBJ Photo/Aaron P. Bernstein)
Though the couple didn't build the 10,000-square-foot, 15-room abode from scratch, it's nevertheless filled with personal touches. The first floor centers on a massive great room, complete with fireplace, piano (Renee occasionally tickles the ivories) and granite fountain. The space is adjoined on one side by the master suite, complete with a smallish, self-contained seating area equipped with a granite fireplace.
"We use this room mostly in the winter, when we can't go outside," Renee said. "We can sit and talk and watch the news."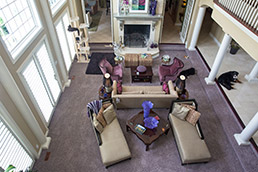 A cavernous great room with a fireplace to match features a piano and granite fountain. (IBJ Photo/Aaron Bernstein)
There's also a full kitchen and formal dining area, which gets a considerable amount of use. Renee figures they make dinner there almost every night of the week.
"Five days a week we either cook or grill," she said. "He grills, I cook."
Rich's second-floor study overlooks the first-floor great room. Next door is Renee's own sanctum, a knitting room. About 3,000 skeins of yarn, many of them acquired during "knitting trips" to the four corners of the earth, rest in cubbyholes.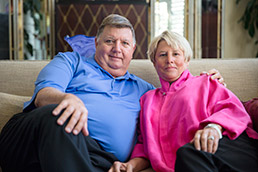 The Ackleys use all of the 15 rooms in the 10,000-square-foot mansion. (IBJ Photo/ Aaron P. Bernstein)
"I have yarns from all over the world," Renee said. "It's fairly organized, but everything gets trashed when we do a project. Amber and I will sit here, have a glass of wine and knit."
The furnished basement includes a full bar, television-equipped seating area, workout space, pool table and, most important of all, Rich's custom-built wine cellar. In it reside approximately 2,000 bottles—and counting.
"People send us bottles from around the world that are their personal favorites," Renee said.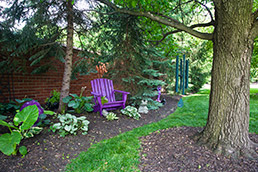 The property is heavily landscaped. (IBJ Photo/Aaron Bernstein)
She prides herself on the fact that every room in the house is lived in, even if it doesn't look "lived in."
"We love it," Renee said. "There are always people in and out. We probably have dinner parties at least once a month. And people like the Daniels will stop in for a glass of wine and some cheese."•
Please enable JavaScript to view this content.