The Indianapolis grocery market is about to become even more competitive, as discount giant Wal-Mart embarks on a strategy to offer consumers a store design much cozier than its cavernous supercenters.

The Arkansas-based retailer, which already operates Neighborhood Market groceries at 3805 S. Keystone Ave. and 8010 E. 38th St., plans to open three additional locations in the next year.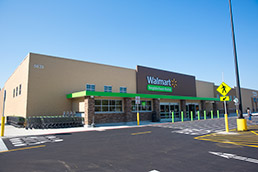 Wal-Mart, already the largest grocer in town, is set to open this west-side Neighborhood Market store later this month and is expected to add two more within a year. (IBJ photo/Aaron P. Bernstein)
And that might be just the start. Retail brokers believe Wal-Mart is scouting for at least two additional Neighborhood Market locations and say the Indianapolis area might support as many as 12 of the smaller-format stores.

Wal-Mart's push is the latest salvo in the battle for market share in Indianapolis' fiercely competitive grocery industry.

Neighborhood Markets measure about 40,000 square feet, roughly a third of the size of a typical Wal-Mart Supercenter. The new arrivals will go toe-to-toe with traditional groceries operated by locally based Marsh Supermarkets and Cincinnati-based Kroger Co.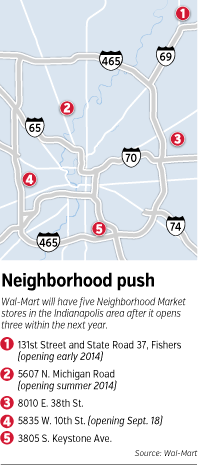 Those companies already were under heightened pressure, thanks to the growing popularity of specialty grocers such as Whole Foods, The Fresh Market and Earth Fare.

Others such as Fresh Thyme and Giant Eagle are scouting for locations as well, said Steve Delaney, a principal at Sitehawk Retail Real Estate.

"There seems to be a lot of intensity in the grocery category recently, particularly from the specialty grocers as they enter the market," he said.

Among the most aggressive specialty players is Whole Foods, which is in the process of expanding its Nora store and is in line to open a 33,500-square-foot store in a $25 million mixed-use project proposed for Broad Ripple.

In addition, Flaherty & Collins Properties hopes to attract a specialty grocer to the ground level of the 28-story tower it plans to build on part of the former home of Market Square Arena downtown.

The discount segment also is becoming more competitive. Aldi, for instance, has filed plans to build a 12,200-square-foot store at 4470 Lafayette Road.

Wal-Mart already is the largest grocer in the Indianapolis market, with a 31.8-percent share as of 2011, according to data from Chicago-based Stagnito Media, publisher of Progressive Grocer. No. 2 is Kroger at 28.5 percent. It's followed by Marsh at 12.9 percent, Meijer at 10.5, and Target at 2.3.

'About convenience'

In mid-September, Wal-Mart is set to open its third Neighborhood Market in a former Cub Foods at 5835 W. 10th St. near Interstate 465. Another is under construction at State Road 37 and 131st Street in Fishers as part of a 104-acre mixed-use project rising from a former golf course. That store is expected to open early next year.

In addition, Douglas Realty Group plans to build a Neighborhood Market as part of its 25-acre development planned for the southeast corner of Michigan Road and Kessler Boulevard.

Brokers say a Neighborhood Market also might anchor a retail development Douglas plans for a 10-acre site at Fall Creek Parkway and East 56th Street. Douglas plans to demolish an aging, 90,000-square-foot shopping center with just one tenant, Dollar General, to make way for the project.

City officials in July approved Douglas' rezoning petition. The Neighborhood Market would be built in space formerly occupied by an O'Malia's grocery store.

Retail brokers say they believe Wal-Mart also is scouting for land in Plainfield, though company officials wouldn't confirm it.

"My take on it is that it's about convenience," said Frank Swiss, principal of the local Swissco Real Estate LLC and Fresh Market broker. "I don't want to go to a Wal-Mart Supercenter for three or four items. I'd rather go to a neighborhood grocery where I can be in and out."

Wal-Mart officials say the company has no set number of Neighborhood Markets that it plans to open in the Indianapolis area.

"We understand that not everyone can drive out to a supercenter," Wal-Mart spokesman Kevin Thompson said. "So we want to make it convenient for them to get fresh, affordable groceries."

Douglas Realty's Kessler-and-Michigan development also calls for 15,000 square feet of small shops, along with two, one-acre outlots that could serve restaurants or banks. The project is expected to cost $25 million to $30 million.

The company's existing retail developments include the Kroger-anchored center at East 71st Street and Binford Boulevard and a Starbucks-anchored center along 116th Street west of Interstate 69 in Fishers.

The new project, dubbed Highland-Kessler Commons, is in an area underserved by grocery stores, brokers say. The nearest are a Safeway on Illinois Street and Marsh stores at West 71st and Michigan and at West 56th Street and Georgetown Road.

"I think it's a great infill site," said Swiss, the Fresh Market broker. "It's going to be highly visible, and there's limited competition in that area."

Strengthening position

Wal-Mart is not the only grocer stepping up its game.

Kroger is embarking on a "major" renovation of its store at West 86th Street and Township Line Road after spending more than $12 million on each of two stores it built in recent years in Nora and at East 71st and Binford. The chain also has expanded and remodeled several other stores.

Kroger also is sharpening its marketing strategy. In July, the chain said it was cutting everyday prices on thousands of items, including natural and organic foods, while eliminating acceptance of double coupons.

"The Indianapolis market is intensely competitive," acknowledged Kroger spokesman John Elliott. "Anytime you have a large metropolitan area, the capital investments needed to cover the market are higher."

Meanwhile, Marsh Supermarkets announced in 2011 that it would spend $60 million to build up to 10 stores and remodel or rebuild several more over three years.

The chain's highest-profile project is a store it is building on the west side of downtown as part of Flaherty & Collins' massive Block 400 apartment project.

Thompson, the Wal-Mart spokesman, said his company welcomes the rivalry.

"At Wal-Mart, we like that competition," he said. "We just want to be able to serve our customers; it's as simple as that."•