The city is preparing to seek bids on a vacant parcel it owns along East Washington Street in an attempt to lure a multi-family development to the blighted area.
Before issuing requests for proposals, however, the city later this month plans to get the property rezoned under a high-density designation that allows up to 26 units per acre.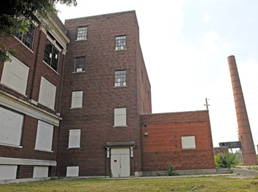 The parcel is part of the P.R. Mallory industrial complex, now owned by not-for-profit Southeast Neighborhood Development. (IBJ Photo)
The undeveloped land that abuts Washington Street between South Parker Avenue and South Gray Street is part of the four-acre P.R. Mallory industrial complex. The centerpiece of the complex, a three-story, 125,000-square-foot brick structure that's been vacant for decades, is owned by the not-for-profit Southeast Neighborhood Development and is not part of the city's redevelopment plans. SEND has been working with neighborhood groups to try to convert the building into a job-skills training center, SEND President Darrell Unsworth said.
In the meantime, SEND and the city last year cleared the part of the site the city is preparing to seek bids on. They used federal grant money to demolish the former Crown Laundry dry cleaner and clean up contamination there..
Any development on the property likely will contain an affordable-housing component, residential real estate experts say, largely because of the area's demographics. Nearly 30 percent of the population within a mile of the site has an annual household income under $15,000. Median income is $26,775, according to Cassidy Turley statistics.
Still, the property has potential, said Joe Whitsett, principal of locally based The Whitsett Group, which has been approached by a not-for-profit to partner on a deal to redevelop it.
"We're certainly interested," he said. "It's a good location. You could do affordable housing and save some land for a future market-rate project."
The Whitsett Group has several projects in the works or under construction, most notably the redevelopment of The Indianapolis Star building at 307 N. Pennsylvania St. Construction on the first phase of that project should start by November. Plans call for 500 units in three buildings, one of which will have retail space.
The Whitsett Group in recent years has completed several mixed- or low-income projects. In addition, two projects, Illinois Place on the former Winona Hospital site and The Point on Fall Creek, are under construction.
The city took ownership of the East Washington Street property earlier this year from SEND, which didn't have the financial resources to mow the property and continue monitoring it for contamination, SEND's Unsworth said.
"Any kind of a substantial investment on that corner is going to be good because there's not been any investment there," he said. "It's been overlooked for a while."
Construction could be a few years out, however. The deadline is Nov. 1 to apply for tax credits with the Indiana Housing & Community Development Authority to help finance low-income housing developments. Submitting an application next year would push construction to 2015.
"Unless the city has someone in their pocket right now, they're going to miss the credit deadline," said Amy Burmeister, a broker at Summit Realty Group.
Besides affordable housing, a senior-living community might make sense for the property as well, she said.
The site is about two miles from downtown.
Please enable JavaScript to view this content.