Baby boomers in recent decades built tens of thousands of houses in the suburbs with plenty of space to raise children.

Ringing Marion and surrounding counties in development after development, the homes often boast four bedrooms, at least two bathrooms and a sizable lawn, not to mention garages for more than one car for shopping, shuttling children to schools, and virtually any other necessity.

Now, with their broods raised or nearly out of the nest, many of the boomers plan to downsize to places with first-floor master suites better suited to golden-years knees. A movement that began shortly before the recession and then stagnated is regaining momentum and expected to last a decade or more.
But that process might not go as smoothly as boomers hope.

Prospective buyers, most of whom

are a generation or two younger, aren't as enamored as their parents and grandparents were with suburban living. And prolonged sluggishness in the economy might stifle the housing market.

Whether the houses fetch prices boomers deem acceptable will depend heavily on a strong economy and finding ways to lure younger people away from their cherished urban apartments.

"Will they stay or will they move back to the more traditional suburban lifestyle?" said Drew Klacik, an analyst at the Indiana University Public Policy Institute at IUPUI. Subdivision homes "have become sort of uncool and undesirable."

Klacik added that policymakers can do much to prevent at-risk subdivisions from slipping into the decline that ravaged many post-World War II neighborhoods by making the boomer-dominated neighborhoods easier to navigate by foot and integrating businesses. Such improvements could go a long way toward making them attractive to younger buyers and ultimately maintaining the tax bases, he said.

Like most metro areas, Indianapolis experienced a torrent of suburban construction beginning in the 1980s as mortgage rates fell and boomers—people born between 1946 and 1964, and now ages 49 to 67—searched for places to sink roots.

Fully 42 percent of the 558,492 housing units in the immediate Indianapolis area have been built since 1980, according to the Public Policy Institute. The vast majority are in the outer townships of Marion County and in the first tier of townships in the adjoining counties.

Many of those homes are owned by boomers.

However, as the landscaping flourished and the children matured, tastes in lifestyles, thus housing and neighborhoods, shifted.

No longer are neighborhoods of purely housing the default choice for people of any age group.

Consider these findings from a December survey conducted for the Metropolitan Indianapolis Board of Realtors and Indianapolis Metropolitan Planning Organization:

• 29 percent of the respondents lived in houses-only neighborhoods, but only 12 percent wanted to live in them. The disparity was greatest east of Indianapolis in Hancock County, where only a third as many respondents preferred houses-only to mixed-use.

• 19 percent lived in suburbs with a mix of housing and businesses, and 29 percent wished they did.

Apply the results to the actual number of residents, and nearly 90,000 people live in neighborhoods with only homes but prefer mixed-use, according to the Public Policy Institute analysis.

• 2 percent lived in a downtown, but 6 percent wished they did. In Marion County, 3 percent of the respondents lived downtown but 9 percent wanted to. In Johnson County, virtually none of the respondents lived in a downtown, and 4 percent wanted to.

The survey included 1,500 respondents in Boone, Brown, Hamilton, Hancock, Hendricks, Johnson, Marion, Montgomery, Morgan and Shelby counties.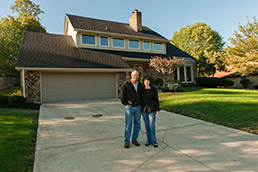 Cut line goes here. (IBJ Photo/Eric Learned)
Unease in the suburbs
If Bruce and Jennifer Cavanaugh's home near Greenwood were listed for sale today, the ads would gush "spotless" and "immaculate" with nary a whiff of violating truth-in-advertising laws.

The contemporary house in unincorporated White River Township looks as though it could be as new as the day the couple bought it in 1983.

But the Cavanaughs, ages 65 and 64 and retired from the mortgage industry, wonder who will bite when they grow too old to navigate the suburban property and finally have to put it on the market.

With a half-acre lot and nearly 3,000 square feet of living space containing four bedrooms and 2-1/2 bathrooms, it's not only spacious but also a handful to maintain. Not the kind of property millennial buyers are lining up to acquire.

"It's like I've got a ranch without the cattle," said Bruce Cavanaugh. "A lot of [millennials] move into a house and wonder how it looks so good.

"I worry about the college graduates who don't know how to change a faucet washer."

Another strike against the house: It sits along a spacious street with no sidewalks and no easy way to walk the short distance to shopping along busy State Road 135—anything but the walkable neighborhood increasing numbers of Indianapolis-area residents of all ages say they want.

The Cavanaughs believe the home would sell for about $185,000 today, and they hope millennials will come around to a buying mood for the kind of space the couple has prized for half of their lives.

There is much to be said for a quiet place with plenty of room, they say.•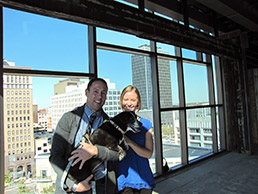 Cut line goes here. (IBJ Photo/Norm Heikens)
Liking urban living
The way Tom Rector and Dr. Nicole Horn see their housing options, the suburbs can't compete with downtown living.

The couple, who married in 2006, are building out a $650,000 north-facing condominium on the eighth floor of Allen Plaza, the tower occupied on most of the first floor by Scotty's Brewhouse.

Rector, 35, and Horn, 32, lived in Fall Creek Place, a neighborhood on the northern outskirts of downtown, while Horn finished her medical training, and came to realize that even if children came along, the restaurants, shopping and cultural offerings downtown far outweighed the space—and related maintenance hassles—of the suburbs.

Not only that, but they can ride bikes to work—Rector to his namesake marketing firm on Monument Circle and Horn to Riley Hospital for Children. Each figure they save about 10 minutes one way over traditional commutes with cars.

Had they settled in the suburbs, they would have ended up piling into a car to see the same things they can appreciate by walking a few minutes from Allen Plaza.

As for schools, they're confident plenty of options have opened with charters; Rector is especially impressed with Herron High School at 16th and Pennsylvania streets.

Even green space isn't as difficult to find as suburbanites would expect. They've always managed to find close places for Fitzgerald, their Jack Russell Terrier/Dachshund mix to limber up. (He's named after JFK.)

"We get all of the benefits of a suburb," he said. "We're giving up a little space, but we're making up for it with all of the other benefits of the community around us."•
------------------------------

Boomers could struggle to receive favorable prices if:

• The trend of younger buyers' favoring authentic, sustainable, urban and mixed-use neighborhoods continues or even intensifies.

• Neighborhoods struggle to distinguish themselves based on security. Buyers in other cities tend to limit themselves to relatively few neighborhoods they consider safe, said Joel Searby, vice president of Gainesville, Fla.-based Strategic Guidance Systems and author of the MIBOR/IMPO survey. Here, many neighborhoods are deemed safe.

• Developers offer farmers the money they want, and start building houses to compete against the existing stock.

• Developers discover how to build affordable housing downtown. Indianapolis Downtown Inc. is looking into ways to encourage condos costing $120,000 to $160,000, price points considered accessible to many millennials.

• Young people remain less interested than their parents and grandparents were in home ownership. Having watched boomers overextend to buy homes and then reap the consequences in the downturn, they might stay leery.

• Municipal governments don't recognize the importance of walkable neighborhoods and don't step in by creating trails and allowing businesses to operate nearby.

Boomers could fare well if:

• Cities make existing subdivisions more attractive to buyers by changing zoning laws to allow mixed uses. Marc Lotter, a spokesman for Mayor Greg Ballard, said the city recognizes the need to make more neighborhoods walkable. Complicating questions about zoning are the vast differences among the neighborhoods, Lotter added. The city has its urban downtown, swaths of suburbs, and in some corners of the city limits, even farm fields. As the city considers new zoning ordinances, it will be challenging to write them to allow the various neighborhoods to function at their best, he said.

• Young people, many of whom still live with parents out of economic necessity, land better jobs, form households, have children and decide they want lots of space. Count F.C. Tucker Co. President Jim Litten among the optimists: "Your typical subdivisions are more conducive to this than typical condo projects."

• The higher cost of new housing forces buyers to opt for established developments.

New construction costs 10 percent to 15 percent more than for comparable houses built even a decade ago, noted Curtis Rector, president of Indianapolis-based Arbor Homes.

Bill Hacker, a broker associate at RE/MAX Legends Group, said the more expensive the existing home, the more likely its value will suffer from competition against new construction. Most builders prefer the profit potential of expensive housing to the tight margins and high risk of entry-level housing.

• The vast majority of local residents continue to prefer single-family detached houses. Even respondents ages 18-34 in the MIBOR/IMPO survey overwhelmingly preferred houses spaced far apart to those spaced close together.

• An improved economy lifts all boats, even developments with few amenities and minimal opportunity to walk to parks, schools or shopping.

• Downtown housing remains too expensive for many young buyers.