The Indianapolis Motor Speedway has put its merchandise and food and beverage contracts up for bid for the first time in its 104-year history.
Speedway officials are asking bidders to commit to making unspecified infrastructure upgrades to help enhance the customer experience and increase sales. The 560-acre facility already is slated for tens of millions of dollars in improvements, including enhanced point-of-sale systems for food and retail, after the General Assembly approved subsidies of up to $100 million over 20 years.

Boles
The Hulman-George family, which owns the Speedway, had previously sought to keep tight control of merchandise and concessions. The move to outsource signals a reversal in that philosophy at a time the IMS is searching for ways to cut costs and increase revenue. Speedway officials are reviewing bids and plan to award contracts as early as October.
It's all part of the mission of a new management team led by Hulman & Co. CEO Mark Miles to revolutionize the company's century-old racing enterprise. While Speedway President Doug Boles said there's a possibility some retail and food service functions might remain in-house, he indicated that he and Miles are leaning toward outsourcing.
"This has to do with the changing culture of the company, and Mark and I certainly support that," Boles said.
While he wasn't specific on how much could be gained by outsourcing merchandise and food and beverage, Boles said "it's not unreasonable to think we could increase sales 10 percent over time" in those two sectors, adding that it "could certainly be a seven-figure" annual revenue gain.
Ken Ungar, a local sports marketing consultant who served as Speedway chief of staff from 1996 to 2005, thinks the time is right for the IMS to outsource. But he warned that any significant price hikes could sow fan discord.
"Fans at the Speedway have become accustomed to lower prices at the track relative to other sports venues," Ungar said.
Cost controls would be written into any third-party contract, Boles said, and he is confident outsourcing will not raise concession or merchandise prices. The track has no plans to prohibit fans from bringing in coolers or outside food.
Ungar said some upsides to outsourcing are undeniable.
"Many of these vendors will bring efficiencies and a wider array of products the Speedway alone would not have access to," said Ungar, CEO of US Sports Advisors.
In the last month, IMS officials have collected bids from vendors. Speedway officials expect to make a decision on merchandising business in early October and on food and beverage business by late October.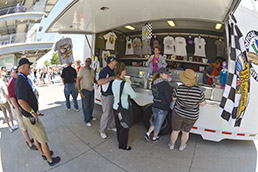 The Indianapolis Motor Speedway sells $9 million worth of merchandise annually. (IBJ photo/Eric Learned)
The merchandise business is also likely to include the IndyCar Series, which is currently handled by Indianapolis-based Lids Sports Group.
Those familiar with the bidding said Lids is not in the running. Instead, Indianapolis-based MainGate Inc. and New Jersey-based Legends Hospitality Management LLC have emerged as finalists for the merchandise business.
MainGate CEO Dave Moroknek confirmed his company is a finalist. Given that MainGate employs nine former IMS employees, including Moroknek, who served as senior director of marketing and consumer products from 1993 to 2002, the local firm could have an inside track.
"We're hopeful," Moroknek said. "Doing business locally is one of MainGate's top priorities."
MainGate has made a name for itself nationally working for a host of NFL and NBA teams, and handling merchandise sales at the last two Super Bowls. It recently landed the contract to handle merchandise sales at the 2014 Super Bowl in New York, forecasted by NFL officials to be the biggest in terms of revenue in the event's 48-year history.
MainGate has driven strong double-digit-percentage merchandise sales increases for the Indiana Pacers, Indianapolis Colts and some of its other clients.
"We're confident we can utilize a lot of the same tools and techniques we have for other clients to increase sales at the Speedway," Moroknek said.
On the food and beverage side, sources said Connecticut-based Centerplate, which handles Lucas Oil Stadium and the Indiana Convention Center, and Illinois-based Levy Restaurants Co., which does food services for Pacers Sports & Entertainment at Bankers Life Fieldhouse, are among six or so firms bidding.
The size of the contracts has attracted the biggest names in sports food services and merchandising. Including sales at the track and Speedway Hall of Fame Museum, the IMS' merchandise business is worth $9 million a year, according to a knowledgeable source. Merchandise sales for the IndyCar Series could add another $2 million to $3 million to the deal.

Ungar
Annual concession sales—which include the Indianapolis 500, Brickyard 400, MotoGP motorcycle race and a handful of smaller events—total more than $3.5 million, sources said. The food and beverage contract is also likely to include premium catering for the facility's 125 suites and other corporate clients at the track, Boles said. But he added that three current suite caterers—Jug's Catering, Ritz Charles Caterers and Cibus Food Service—won't be kicked out.
And Boles said not to fear: Many fan favorites at the track, including the Indy Dog and breaded tenderloins, are not likely to be discontinued.
"Our vendors would be looking at what's popular and what sells at the track and I'm sure they'd want to continue those popular items," Boles said. "The whole idea is to broaden and enhance the offerings, both in terms of merchandise and food and beverage."

Moroknek
The facility's pouring-rights deals with Coca-Cola, Miller/Coors, Crown Royal and Fuzzy's Ultra Premium Vodka would not be affected, Boles said.
The outsourcing would likely mean downsizing a handful of the 15 or so full-time jobs in merchandise sales and food and beverage, and some seasonal part-time positions, Boles said. Some of those employees likely would be retained by an outside vendor.
Speedway officials invited bidders in to tour the facility and observe operations during May and at the Indianapolis 500.
"We're a pretty unique facility, just the sheer size of it alone," Boles said. "Some of the points of sales are a mile-and-a-half apart. With 100 concession locations and more than 80 merchandise outlets, it's not like your ordinary football or basketball venue. And we're not a brand-new facility with all the new amenities. There are some pretty significant logistical challenges here."•
Please enable JavaScript to view this content.