In eight years with the Hamilton County Convention and Visitors Bureau, Executive Director Brenda Myers has morphed her organization into a developer, grant giver and landlord. The strategy appears to be working.
The number of visitors traveling to Hamilton County has grown from 1.7 million in 2005 to 2.1 million in 2011, according to a study commissioned by HCCVB. About 2.2 million visitors are projected for this year.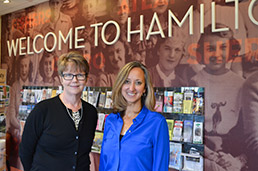 Brenda Myers, left, and Karen Radcliff have expanded the Hamilton County tourism industry during a time the industry has shrunk nationwide. (IBJ Photo/Anthony Schoettle)
Visitor spending in Hamilton County has grown from $244 million in 2007 to $292 million in 2011, with expectations of exceeding $300 million this year.
The annual budget for HCCVB—which has 17 full-time and 18 part-time employees—has grown from $880,000 in 2007 to $2.9 million this year. That's been more than offset by the rise in taxes flowing into the county from visitor spending, Myers said, up from $79.7 million in 2007 to $94 million in 2011.
"I think one of the most impressive things is that this growth has occurred during a very serious economic recession," said Gary Miller, vice president of operations for Indiana Motel Developers Inc., which owns Staybridge Suites in Fishers.
Many in Hamilton County credit the growth largely to the work of Myers and HCCVB Deputy Director Karen Radcliff.
"They're the dynamic duo," said Allen Patterson, director of Hamilton County Parks and Recreation. "Their energy, tireless work and out-of-the-box thinking has fueled a lot of growth in this county."
Myers came to Indiana University to study journalism and political science. She later earned a master's in history from Butler University. She returned to her native Tennessee to work as a journalist until moving back to Indiana in 1983 and landing at Conner Prairie, working in public affairs from 1984 to 1997. She later worked stints at the state's tourism department and Indiana Historical Society before becoming HCCVB director.
Radcliff, an Eastern Kentucky University graduate, began her career teaching junior high English and coaching basketball and volleyball for two years. She then took a job in public relations for Akron University, and later did PR work for the Eiteljorg Museum of American Indians and Western Art, when it opened in 1989. In 1995, she joined HCCVB.
"Karen and I share the same vision and values. … We both have big antennas … always picking up on trends and information, and connecting it to what we do," Myers said. "But Karen is a much more thoughtful, careful, strategic person while I am willing to take more risks, push things and test.
"Sometimes she pulls me back, makes me think … and sometimes I push her a little, make her take a leap before she's ready," Myers added.
Radcliff arrived at HCCVB just five years after it was launched in 1990. Over the years, she saw mostly steady, but slow growth in the county's tourism and travel sector.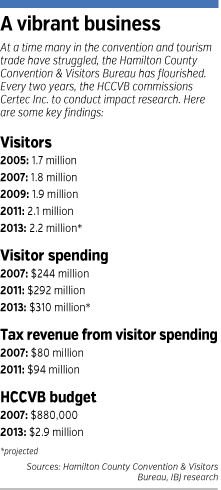 When Myers showed up, all that changed. Since Hamilton County doesn't have a convention center, Myers sought a way to drive tourism and travel business to places like Westfield, Fishers, Noblesville and Carmel.
She spearheaded an effort to make travel youth sports a major thrust, working with area parks departments and private organizations to make sure they had the knowhow and facilities to bid for regional and national contests.
"We found if certain facilities were made just a little bit bigger or with just a few more amenities, we could draw these big youth sports events," Radcliff said.
Myers also helped county hoteliers sell themselves to the sporting families who started coming in from around Indiana, Ohio, Illinois, Michigan and Missouri.
HCCVB also put its money to work. In 2011, it worked with the Hamilton County Council and Hamilton County Tourism Commission to let a $3.4 million bond to support facilities development. The total cash outlay by HCCVB over the past eight years has been almost $7 million for everything from parks and sports facilities to an artist's colony.
After meeting with area hoteliers and hearing they needed weekend business, Myers started focusing on drawing not only youth sports, but also social gatherings.
Since that meeting eight years ago, Hamilton County hoteliers said their weekend occupancy has gone from just above 50 percent to nearly 90 percent during summer weekends.
Not only did Myers and her staff promote landmark destinations like Conner Prairie, the Indiana Transportation Museum and Klipsch Music Center, but they also put together a directory of smaller establishments appealing to people looking for destinations for events like weddings and family reunions.
Some of what Myers and Radcliff did was counterintuitive.
"People didn't think we could attract weddings here, but when we're able to show people what Hamilton County has to offer—prices and amenities—we really opened some eyes," Radcliff said.
Not many CVBs are landowners. But in 2008, HCCVB began an arts initiative to mimic its youth sports movement that culminated in buying two houses in downtown Noblesville in 2011 to house Nickel Place Arts, a place for artists to meet, work, hold classes and perform.•
Please enable JavaScript to view this content.