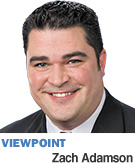 In recent years, our city's civic and business leaders have put much effort into attracting and retaining young professionals, those young singles who prefer city life, dining out and environmental causes.
We should be proud that Indy's arts scene is vibrant and growing. When we finally improve our mass transit system, planners predict huge pockets of growth in neighborhoods downtown and on the near-north side and east side.
(IBJ file photo)
Despite all these efforts, young professionals and families looking for a healthy environment may well look elsewhere because of Indy's poor air quality. Who wants to jog, walk or bike in a city given an F grade for soot or particle pollution and a D for ozone pollution by the American Lung Association?
Movoto.com, a real estate blog, recently listed the 10 most unhealthy cities in the United States. Indianapolis was No. 1—the worst, mainly because of our poor air quality and smoking rates. According to Movoto: "If you love your lungs, get out of Indianapolis."
As an elected official and former small-business owner for 17 years, I care about both economic development and public health, and I know the two are not mutually exclusive. How can we attract or retain talented people with poor air quality ratings?
Last month, the Indiana Utility Regulatory Commission approved Indianapolis Power & Light Co.'s request to raise electricity bills on Indianapolis families in order to continue burning coal at its outdated Harding Street power plant.
Rest assured this is not the last time IPL is likely to go to the IURC to seek ratepayer money to keep burning coal. Expect it to seek hundreds of millions of dollars more to control water pollution, meet coal ash disposal requirements, and cut carbon emissions.
In fact, the IURC agreed it was not economical to keep retrofitting the Harding Street plant because of these impending future costs, but it allowed IPL to move forward, anyway.
When I was 16 years old, my first car was a 1976 Ford Granada. Over time, I was pouring more and more money into the car just to keep it on the road. Eventually, it made no sense to continue to spend so excessively on an aging automobile and I decided to let it go. When I think about IPL's Harding Street plant, I often come back to my experience with that beaten-down Granada.
By pouring more money into an aging coal-fired power plant, IPL is holding our city back from investing in clean, renewable energy that will improve the air we breathe, create jobs and reduce energy bills.
IBJ reported in July 2012 that IPL has pulled the plug on any future expansion or extension of solar or wind power. Meanwhile, according to the Solar Foundation, Michigan, Illinois, Ohio and Kentucky all have more solar jobs per capita than Indiana. There are jobs in clean energy.
Indianapolis should be a leader in the move to a clean-energy future. Mayor Ballard should be commended for moving the city's vehicle fleet away from its dependence on foreign oil. We also must commit to moving away from our almost singular dependence on coal and other fossil fuels for electricity, and toward clean, renewable energy like wind and solar.
For both our financial well-being and the public health of our city, it's time for IPL to retire the Harding Street plant and to build a future powered by clean, renewable energy.•
__________
Adamson, a Democrat, is an at-large member of the City-County Council. Send comments on this column to ibjedit@ibj.com.
Please enable JavaScript to view this content.