Hear mention of Arthur Miller's "The Crucible" and you may well flash back to high school English class. There, you may recall scribbling down the parallels between Miller's Puritans and American McCarthy-ism. Or suffering through a student-cast reading of the play whose highlight was watching classmates trying not to giggle every time Tituba's name was mentioned.
But as proven in Indiana Repertory Theatre's production (through Oct. 13), "The Crucible" still has the power to shake off that "it's good for you" educational stigma. In it, IRT demonstrates rule No. 1 for staging a classic: Forget that it's a classic. Forget that it's term-paper fodder. Forget that it's been a staple since its 1953 debut.
Instead, treat the drama as vital. Treat the characters as complex people. And surround them with an impeccable production.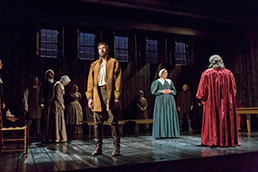 Ryan Artzberger leads an outstanding cast in IRT's "The Crucible."(Photo courtesy Indiana Repertory Theatre)
Rather than a didactic play about witch trials, IRT's "The Crucible" is about a three-dimensional man, John Proctor, guilt-ridden from an extramarital dalliance, trying to keep his distance from a growing tide of irrationality sparked by she-who-was-dallied-with. The accusations of witchcraft lead quickly to a palpable dread, a growing force that steadily engulfs the village as otherwise decent people try to force events to fit their world views (an increasingly common condition these days, particularly among radio hosts. But I digress).
Special kudos to Director Michael Donald Edwards and Claire Simon Casting for finding just the right Indy talent for key roles—including Ryan Artzberger as the troubled Proctor, Rob Johansen as the wormy Rev. Parris, and Mark Goetzinger in the small but affecting part of Francis Nurse—and blending them seamlessly with outstanding out-of-town talent. I hope we'll be seeing the likes of IRT newcomers Elizabeth Laidlaw (a deeply truthful Elizabeth Proctor) and Dennis Grimes (as the conflicted Rev. Hale) again.
And what a pleasure seeing one of Chicago's finest actors, Stephen Pickering, here. To my memories of his outstanding work in "The Seagull," "King Lear" and "Long Day's Journey Into Night," I happily add the depth and resonance and even humor he gives here to Deputy Gov. Danforth, a character that could easily be played as a stock villain.
Some of the younger performers don't seem as grounded in the period as these vets, but that's a minor complaint for a stunning production that exemplifies IRT's "World Class. Made in Indiana" tag line.
–––––
There's another solid cast on stage over at the Phoenix Theatre, this one demonstrating how to turn a fair play into a very entertaining evening.
Christopher Durang's "Vanya and Sonia and Masha and Spike" picked up a Tony Award just a few months ago for Best Play on Broadway, but that speaks more to the few original plays staged last season than it does to the quality of this one. That's not to say it's a bad play—just a scattershot one that feels a few drafts away from solid.
You might not notice that, though, given the joyful attack being launched on it by Charles Goad and Diane Kondrat, who play the first two of the title quartet. As step-siblings lamenting the lack of excitement in their lives, the duo turned inertia into theatrical bliss. And the blossoming of Kondrat's Sonia—particularly during a phone call where she's alone on stage—is a sight to behold, showing a surprising sweet side to the usually absurdist, cynical Durang while offering a master class by Kondrat in soulfully funny acting.
Less effectively written are prophecy-spouting Cassandra (Dwandra Nickole Lampkin) and Masha, a Hollywood actress who is given far too much stage time with little to do but offer variations on shallow. To actress Jen Johansen's credit, the imbalance merely tilts the play rather than sinks it. More endearing are Spike, unashamedly played (even in his skivvies) by Pete Lindbloom, and Nina (Ashley Dillard), the picture of enthusiastic sweetness.
"You must always get your hopes up," says Nina, which isn't a philosophy I expected from a Durang play, but one that plays beautifully here.
–––––
The last time audiences were invited by NoExit Performance to traipse around the
grounds of the Indianapolis Museum of Art it was in the company of Oedipus and his intense clan of ancient Greeks.
On Sept. 20-21, though, the company was decidedly gentler as NoExit staged "Big Bad Wolf," an original effort geared toward the younger set but which also brought smiles to the adults in attendance. In it, audience members (many sporting masks crafted before show time) were led on a search for the beast, with encounters along the way with Little Red Riding Hood, a puppet Peter Pan, a petulant Cinderella stepsister, a trio of German-accented singing pigs and more.
Fairytale mash-ups are nothing new, but the endearing NoExit crew knows how to take advantage of its environment, keep every episode fresh and, most important, interact with kids en route to each location. It's those conversations more than the scripted moments that the kids—and I—are most likely to remember.•
__________
This column appears weekly. Send information on upcoming arts and entertainment events to lharry@ibj.com.
Please enable JavaScript to view this content.