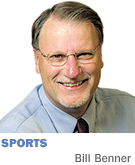 News that the historic Muncie Fieldhouse could become the victim of a budget crunch got me thinking about places. Sports places.
Four come immediately to mind, and two of them are right here in White River City.
One, the Rose Bowl, especially in the late third-quarter/early fourth as the alpenglow basks the San Gabriel Mountains in a golden hue and the stadium lights begin to illuminate the colors on the field below. I get chills just typing that sentence.
Two, Augusta National Golf Club, particularly down in Amen Corner with Rae's Creek reflecting the blue sky in front of the 12th green and the azaleas providing that breathtaking backdrop to the 13th hole.
Three, Hinkle Fieldhouse, but especially—as I've mentioned many times—for an afternoon game when the sunlight filters through the big glass windows and puts a shine on the maple hardwood.
And four, driving through Gate 2 at the Indianapolis Motor Speedway—though I've done it hundreds of times—where I never fail to be taken aback by the sheer enormity of the place.
Venues mean something. More than bricks and steel and concrete, if done right, they ooze character and provide a sense of special place. That's why I delight that we have such distinctive venues in Indy, historic ones like Hinkle and IMS but the newer ones, too: Bankers Life Fieldhouse (incredible blend of old and new), Lucas Oil Stadium (but especially with the roof and window open), Victory Field (oh, what a view) and the IU Natatorium (still visually stunning in its 31st year).
I also have a feeling that the State Fairgrounds Coliseum is going to come back from its redo better than ever, up-to-date but still capturing the historic feel of the building.
Someone asked me recently how I felt about the potential renovation or demolition of IU's Assembly Hall. I know the hall, which opened in 1971, has crowded concourses and rest rooms, steep stairs, narrow seats, bad sightlines in and underneath the balcony … and it lacks suites.
But it's Assembly Hall! It is, to many, more symbolic of IU than the Wells Library or the Memorial Union. My hope is that the smart-guy architects can devise a way to give the building breathing room, but not alter its essential character. That's what Purdue did with Mackey Arena, though I know it was a much different challenge.
So, I meander back to my point—bet you thought I'd never get there—of sports places as treasured people places. When I hear the Muncie School Board is including the iconic fieldhouse on a list of possible cost-saving facility closures, I agonize with their members.
How do they balance the history of the eight state championship teams who played there and the memories of those Friday nights that featured epic North Central Conference games, against the realities of maintaining an 85-year-old building?
Just about 20 miles to the west, of course, the Anderson school board already has been there, done that, vacating its famed Wigwam, a victim of changing times, cultures, demographics and economic challenges.
All that history, all those moments that made the Wigwam synonymous with the city, are consigned to history, barring a miracle. Thus, it stands as an empty shell. For Hoosiers who remember when, that's heartbreaking yet also understandable. The board had to make the tough call.
As maintenance and educational costs rise and state/city revenues dwindle, Hoosier towns may be confronted with the same issue: how to sustain iconic venues built for another era. In this state, given its high school basketball heritage, we have many that fit that description. Can you imagine New Castle without its 9,200-seat Chrysler Fieldhouse? I can't … but then.
Where sports places matter—and that's just about everywhere—there are no easy answers.•
__________
Benner is senior associate commissioner for external affairs for the Horizon League college athletic conference and a former sports columnist for The Indianapolis Star. His column appears weekly. He can be reached at bbenner@ibj.com. He also has a blog, www.indyinsights.com.
Please enable JavaScript to view this content.