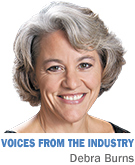 It's a common and natural occurrence: A song comes on the radio and you instantly recall memories—perhaps it makes you smile or remember old friends, or it just takes you back to a moment in your life.
The effects of music on our mental and physical well-being have been the focus of multiple studies. Music therapists integrate the natural responses to music with current scientific understanding to address a number of health conditions. The profession is burgeoning, particularly in Indiana.
A growing number of primary care and specialty doctors regularly recommend music therapy for patients of all ages. It is integrated into treatment plans for those struggling with a range of issues or needs, including memory loss, the emotional and physical effects of cancer and its treatment, mental disorders and physical rehabilitation.
Qualified music therapists use music experiences—singing, songwriting, listening or moving to music—to alleviate pain, enhance memory or improve coping skills.
For many, music therapy provides an avenue for communication when it's difficult to express yourself in words. I once worked with a patient who had been in a coma, and when he regained consciousness, the brain trauma resulted in his inability to speak. However, he was able to sing in music therapy before speaking in speech therapy.
I have also written original songs with cancer patients to help them express feelings about the things and people that were important to them.
Music therapy is not for everyone. While there are no published reports suggesting music or music therapy can be harmful, current research suggests that music-listening interventions are effective about half the time.
The equivocal nature of these research results likely stems from the use of music that is not emotionally meaningful to a particular patient. Additionally, there are some patients (premature babies in the neonatal intensive care unit, for example) where extreme care must be taken while adding additional sounds, such as music, to the environment.
Acceptance of music therapy by physicians and patients alike is spurring growth of the profession. Nationwide trends show a 19.3-percent growth of board-certified music therapists in the last two years, consequently benefiting our economy.
However, despite this growth, the increased demand is outpacing the availability of qualified therapists. In Indiana, a number of music therapy positions are open. Even more, over the past five years, more therapy jobs have been created than lost. The profession earns a respectable salary—a median range of $45,000—that is only expected to rise.
As demand continues to increase, I believe state recognition of the profession will be sought to assist with provisions for third-party health insurance reimbursement.
And there's good reason for this to happen. A cost-benefit analysis of music intervention provided by credentialed music therapists has shown significant savings in many settings. In one study, the total cost per hospice patients receiving music therapy was $10,659 compared with $13,643 for standard-care patients, resulting in a cost savings of $2,984. The number of people receiving hospice care is expected to grow exponentially as the population ages.
Another study of children undergoing CT and other types of diagnostic scans showed music therapists could sing children to sleep, avoiding the cost and risks associated with using anesthesia, reduction in procedural times and a decrease in the number of staff members present for procedures and recovery. Total savings amounted to about $74 per patient. I think we're on the cusp of realizing a return on music therapy—mentally, emotionally, behaviorally and financially. As we continue to see the cost of health care rise, access to qualified music therapy services is one way Hoosiers can improve both their quality of life and treatment outcomes.•
__________
Burns is associate professor and coordinator of music therapy in the Department of Music and Arts Technology, Purdue School of Engineering and Technology at IUPUI. Views expressed here are the author's.
Please enable JavaScript to view this content.