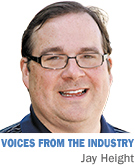 We all agree that something needs to be done for our challenged health care system. But is the new health care law what we need? Will this help those who are poor receive health care they need?
I believe well-meaning folks took action to help, but my fear is that unintended consequences will make a challenged situation even worse. Clearly, our system does not serve those who are poor very well. But are we headed in the right direction?
Imagine with me. You love your favorite amusement park. You love the rides, the shows, the food. It is one of the greatest experiences you have ever had. You agree that many of your friends should be able to have the same experience, the same opportunity.
So how do you create this opportunity? Do you create tickets and give them to all your neighbors who were not able to go? What if thousands, maybe millions, finally have the opportunity to go to the same amusement park? What will happen?
All of a sudden, you realize the amusement park isn't any bigger and no one hired more employees. So how will this go?
What will be the wait time for my favorite ride?
Will I even get to ride?
While I have a ticket, will I be able to enjoy what is promised?
If I never can get in the gate, or if I never actually get to ride, have the new tickets helped?
While health care is much more important than amusement parks, I fear the story is the same. I fear the new law has only helped by offering "new tickets" to 16 million, yet not addressing the capacity challenge.
Have we increased the number of people in the health care funnel but not expanded the spout? Will my neighbors find further frustrations as they wait in line? Have we created unintended consequences?
My wonderful family and I have had the privilege to live, work and worship the last 18 years on the near-east side of Indianapolis. We have seen the challenges for our neighbors of the lack of access to health care. Yet, I am not sure things are getting better.
In July last year, a young student in one of Shepherd Community Center's programs was playing on our playground when a seizure came on. The medics commented about never having seen such an intense seizure for such a young child.
Hours later, the boy was released to his parent with the note to go see a pediatric neurologist.
The boy got his sticker into the amusement park, yet his story is what I fear.
It was April before that simple instruction could be accomplished. While he had coverage, the funnel to the doctor was so small, and the number needing to see the doctor so many, that admission didn't matter.
I fear this is the unintended consequence for 16 million more of our neighbors.
The problem is much bigger than just a ticket to get in. We must be addressing the capacity, offering legal reform to protect great doctors, and making sure we address the shortage of medical personnel.
I heard recently of the challenge in one of our country's major cities, where there is only one OB/GYN for all the Medicaid patients. How can we say we are really helping? Have we solved anything?
I fear the new law could force many of our new neighbors into a permanent status of being a 29-hour employee. Employers who cannot afford the financial burden will move many positions to this new reality.
Are we placing great burdens on the very folks who provide insurance options for those who are working? Will we force more companies to close, when what my neighbors need are more jobs—and health care?
I ask that we seek not blame but better solutions. We must address the entire challenge to make sure we do not have unintended consequences.
My neighbors deserve nothing better.•
__________
Height is executive director of Shepherd Community Center. Views expressed here are the writer's.
Please enable JavaScript to view this content.