Let's start with a flashback.
The first time I saw "Les Miserables" was circa 1988. The blockbuster had already been running for a year and the populace was praising it as the savior of Broadway. The critics, on the other hand, had mixed feelings, generally up on the spectacle and down on the music.
For me, from the cheapest of seats at the Broadway Theatre (back then a prime orchestra seat would have set me back an unaffordable $47.50), the show offered a thrilling, emotionally powerful first 40 minutes or so.
But once we said farewell to Fantine and the dream she dreamed, once our hero declared to the court that he was Jean Valjean, and once we thudded into the Thenardiers, "Les Miserables" never reached the same heights.
Seeing it another four or five times in touring productions—from better seats—and catching it in concert versions on PBS raised my view of the musical. And experiencing it from a vantage point about 12 feet from the stage—as I did at Beef & Boards (where it's being given its professional Indianapolis regional theater premiere through Nov. 25)—I now appreciate it even more.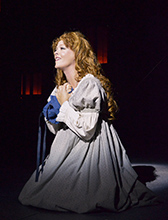 Sarah Hund, as Fantine. (Photo courtesy of Beef & Boards Dinner Theatre)
I, too, made plenty of jokes after hearing that our dinner theater would be producing the epic centered around the starving masses. I teased that it might use its serving stations as the barricades and speculated as to the trouble I might get in if I stole some bread from the buffet.
But all joking aside, Beef & Boards is offering a sincere, satisfying, terrifically sung, intimate-yet-still-epic production of the musical. It's got a strong Valjean in Greg Goodbrod, who has played the part elsewhere. He gives the early scenes a feral quality that feeds his performance throughout. He knows—and subtly shows—that the prisoner still exists inside the model citizen Valjean later becomes. And that everything he has could be taken from him at any moment.
For "Les Miserables" to work best, it needs a compelling Javert to match its Valjean. And B&B has one with Joe Tokarz (whose credits include being among the singers of "One Day More" at last year's Oscars).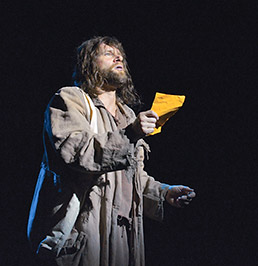 Greg Goodbrod as Jean Valjean. (Photo courtesy of Beef & Boards Dinner Theatre)
The default for actors is to play Javert as single-minded as The Terminator. But Tokarz's nearly showstopping rendition of "Stars" is less about an automaton declaring his obsession and more about a man locked into a world view while trying to wipe away some nagging doubts that his fanaticism might not represent the true path.
Kudos, too, to Dominic Sheahan-Stahl, who is perfectly fine as the love-smitten Marius. But he brings a deeply moving truth to the character when confronted with the fatal reality of his pals' protest. And to Douglas E. Stark and Annie Edgerton who, by minimizing the grotesque, keep the Thenardiers from being the annoyances I've always previously found them to be.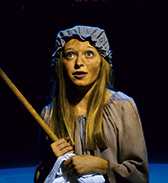 Anja Reese as Young Cosette (Photo courtesy of Beef & Boards Dinner Theatre)
Sure, a six-piece orchestra isn't going to offer the symphonic sound you might be used to in this score—and occasionally the obvious synthesized sound jarred. But the music and vocals were appropriately scaled to the theater. As was the spectacle. Only in one key moment did director/choreographer Ron Morgan and his designers overstep—in Javert's second-act leap, where awkward wires distracted from the drama with an overambitious effect that drained the drama instead of enhancing it.
Otherwise, no joke, Beef & Boards' "Les Miserables" is a treat. I suspect I'll be hungry to see it again long before this long run ends.•
__________
This column appears weekly. Send information on upcoming arts and entertainment events to lharry@ibj.com.
Please enable JavaScript to view this content.