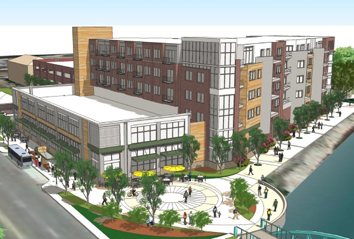 The Indianapolis Metropolitan Development Commission on Wednesday approved a request to rezone a 2-acre parcel in Broad Ripple Village, paving the way for a controversial apartments-and-grocery project.
The commission voted 5-2 to approve the request from Indianapolis-based Browning Investments Inc., which has planned the $25 million project for the northeast corner of College Avenue and the Central Canal. Members Lena Hackett and William Selm voted against the rezoning.
"We're delighted," said Jamie Browning, principal of the developer, following the vote. Browning is expected to ask for city assistance to help finance the project, a process that could take between three to four months, he said.
Regarding how much the company will seek, Browning said: "We'll be talking about that shortly."
Browning's plans call for a 35,000-square-foot grocery—earmarked for a Whole Foods—and 104 apartments on the site, which currently includes a long-vacant Shell station that faces College Avenue, as well as several low-rise apartment buildings.
The rezoning allows retail uses on the site. The Commission also approved a variance of development standards for outdoor seating, some architectural elements, and to build fewer parking spaces than required for a project that size. The firm's plan calls for a four-story garage with 340 spaces.
Opponents of the project have objected to its large scale, relative to the rest of Broad Ripple Village; potential traffic snarls; and that Whole Foods is a national chain.
Rudy Nehrling, owner of the nearby Good Earth Natural Food store, said MDC's approval was just "one hurdle" in the process.
"We're not going to give up," he said.
The proposed project has polarized the northside neighborhood for months.
This story will be updated.
 
Please enable JavaScript to view this content.