The developer who delivered high-end housing to Westfield a decade ago with The Bridgewater Club is working on plans for another upscale golf community near the city's Grand Park Sports Complex.
Located on almost 750 acres of surprisingly picturesque countryside, Henke Development Group's 1,500-home Chatham Hills is the largest residential project proposed in central Indiana since the housing bubble burst in 2008.

Henke
Its 18-hole championship golf course, laid out by legendary designer Pete Dye, would be the state's first new links in almost as long.
"It is an exciting project," said company founder Steve Henke, who developed Bridgewater with partner Gerald Throgmartin. Construction there started in 2002; the final phase of work is under way.
Chatham Hills is about the same size as Bridgewater, but plans call for building nearly three times as many homes—a result of the smaller lots today's buyers prefer. More houses will be on the golf course, Henke said, including plenty of no-maintenance options for empty-nesters.
Home prices are expected to range from $275,000 to more than $1 million, with most falling between $400,000 and $800,000, Henke said.
Amenities include parks, a network of multiuse paths with private access to the Monon Trail—which is slated to cut through the property en route to Sheridan—and a clubhouse with a fitness center, indoor swimming pool and tennis facilities.
A small area at the northeast corner of the property, near the intersection of U.S. 31 and State Road 38, is set aside for mixed-use development including attached housing and some retail.
When the community is completely built out, Henke expects its assessed value to exceed $500 million.
"It has been at least five years—and probably more like seven—since we've talked about a project of this size," said Steve Lains, CEO of the Builders Association of Greater Indianapolis. "When the downturn occurred, the industry had lots on the ground that have been holding us until now."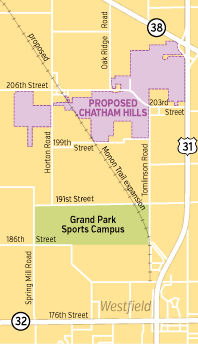 Although the improving market has allowed builders to pull the trigger on construction in new sections of existing projects, he said Henke's leap of faith with a new development is an encouraging sign.
So is the steady increase in single-family building permits. Permit filings in the nine-county central Indiana area are up 23 percent year-to-date, according to BAGI data, having increased 15 months in a row. In Hamilton County, homebuilders pulled 18 percent more permits through September than in the same period last year.
"The industry is getting some confidence back," Lains said, citing growing interest from consumers—a sign they've regained some of their swagger, too. Developers "have been sitting on the sidelines for years, waiting, and now they're making their move."
Indeed, Henke said he has been working on Chatham Hills for about six years, assembling the land—some of which has been in a single family for seven generations—and coming up with a plan for the property's rolling hills and wandering creeks.
"'Unbelievable' is the word [Pete Dye] keeps using," he said of the topography.
"It's probably the prettiest piece of land we've got in our jurisdiction," said Matt Skelton, Westfield's director of economic and community development.
Henke-led Chatham Oaks LLP submitted preliminary plans to the City Council this month in the form of a so-called Planned Unit Development ordinance, which would establish special zoning rules and development standards for the project.
Westfield's Advisory Planning Commission will conduct a public hearing and weigh the proposal before making a nonbinding recommendation to the council, which has the final say on the rezoning request.
Like most of their suburban brethren, city leaders have been trying to diversify Westfield's largely residential tax base by working to attract commercial investment. The city is seeding the effort—quite literally—with a $45 million investment in Grand Park, a 400-acre youth sports park being built at 191st Street and Spring Mill Road.
Henke Development is leading that project, too, along with the private Grand Park Village commercial development planned for 220 acres between the park and State Road 32.
As IBJ reported in May, plans call for more than 1,000 attached housing units plus plenty of office and retail space to serve the hordes of visitors expected to show up for sporting events.
Westfield Mayor Andy Cook expects retail development along State Road 32 to heat up after the park opens next year and the state's overhaul of U.S. 31 is complete. The project, which essentially is turning the stoplight-plagued highway into a limited-access interstate, will provide better access to the city, he said.
The current 20- or 25-minute drive between Westfield and Interstate 465, for example, could be cut to about 10 minutes once the improvements are complete.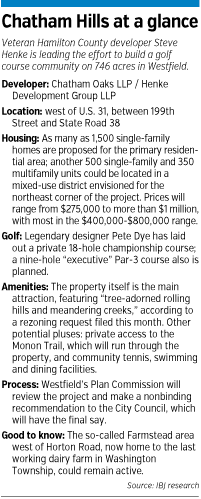 "That's a game changer," Cook said.
Chatham Hills doesn't have enough of a retail component to help with the commercial tax base, but Cook has seen firsthand the difference high-end housing can make to the city's bottom line. The Bridgewater Club "turned Westfield around," he said, citing its departure from dense neighborhoods full of small homes at much lower price points.
Building a golf course community surrounded by million-dollar homes "was a gutsy move" in Westfield at the time, Cook said. "People thought Steve was nuts, but he certainly proved them wrong."
When the city did an analysis about five years ago, property within The Bridgewater Club represented about a quarter of the city's total assessed value.
But golf-course development slowed with the economy, and Bridgewater was among the last to tee off in Hamilton County before it stopped completely.
No courses have been built anywhere in the state for more than three years, said Mike David, executive director of the Indiana Golf Office, the organizing and sanctioning body for golf here.
"We're still reeling from the building boom of the '90s and early 2000s," David said. "In my opinion, we're not out of crisis mode."
Golf courses tied to housing developments do have an advantage over stand-alone courses, he said, given the "captive audience" residents provide. But he said Indiana has so many good public courses that more golfers are opting not to join private clubs.
And with demand tapering off, every new course puts an existing facility at risk.
"They can build a new golf community, and golfers are going to buy those houses," David said. "They're not adding new golfers; they're pulling from other areas. There's no magic potion. It's going to affect other courses."
Henke thinks Chatham Hills will have broader appeal than most golf-oriented developments. Young families could be drawn by its proximity to Grand Park, for example, and professionals may like the easy drive to Carmel's Meridian Street office corridor. And he said the amenities will be unparalled.
An operating dairy farm on the western edge of the property will be preserved in some form, Henke said, raising the possibility of a consumer creamery along the lines of Traders Point. He also is considering some land for garden plots where residents could work on their green thumbs.•
 
Please enable JavaScript to view this content.