Two of the most visible buildings along Carmel's North Meridian Street corridor are expected to hit the market soon as owners look to take advantage of an improving office sector.
Chicago-based Zeller Realty Group bought the buildings near 116th and North Meridian streets in 2001 and invested a "good amount of money" in them to get them stabilized, said Mark Vollbrecht, a Zeller senior vice president based in Indianapolis.
They're 88-percent occupied and could attract a lot of interest from long-term institutional investors, he said.
Brokers say the buildings could fetch $125 to $150 a square foot, or as much as $57 million.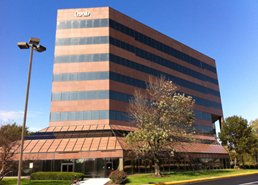 Meridian Mark Plaza is expected to hit the market as occupancy increases along the Meridian corridor and interest rates remain low. (IBJ Photo/Scott Olson)
The granite-clad buildings total 385,000 square feet, ranking them as the third-largest office complex along the corridor, trailing only Parkwood Crossing and Hamilton Crossing, according to the most recent IBJ statistics. At eight stories, they're the tallest in Carmel.
Zeller Realty has hired the local office of CBRE to advise it on a sale.
Dan Richardson, an office broker at the firm, said he thinks it's an excellent time for Zeller Realty to explore its options.
"Interest rates remain historically low and lenders have a big appetite to invest in high-quality real estate," he said.
Local developer Browning Investments Inc. built Meridian Mark Plaza over a two-year stretch, in 1983 and 1984.
Improvements made by Zeller Realty include the addition of a fitness center and new lobbies, food service, roofs and mechanical systems.
The upgrades should help Zeller attract a buyer, said Rich Forslund, an office broker at Summit Realty Group.
"Those are great assets and Zeller's done a really good job of keeping them updated with things that prospective tenants are looking for," he said. "The buildings, especially for suburban office, have a decent amount of amenities in them."
Rental rates for Meridian Mark range from $18.50 to $20.25 per square foot, competitive for the North Meridian corridor, according to the most recent IBJ statistics. Tenants include Cisco, Edward Rose & Sons, Liberty Mutual and Oxford Financial.
Strong demand for space along the corridor has helped reduce Carmel's Class A vacancy rates to 12.3 percent, according to CBRE data. But the figure could drop even lower, into single digits by the end of the year, the firm is predicting.
The vacancy rate for the overall suburban Class A market continues to improve and stands at 16.8 percent, lower than the 19.9 percent downtown rate.
That demand for Carmel office space has prompted a flurry of sales lately in the market.
Across the street from Meridian Mark, Baldwin & Lyons Inc. bought from local developer Lauth Group Inc. the 181,000-square-foot building at 111 Congressional Blvd. The trucking and auto fleet insurer expects to move from downtown after the first of the year.
In July, REI Real Estate Services LLC and Perennial Investments teamed up to buy out of foreclosure a 105,000-square-foot office building at 550 Congressional Blvd.
Earlier in the year, Marion-based Moorehead Communications Inc. bought the 47,000-square-foot building at 525 Congressional Blvd.
And Meridian Corporate Plaza, which formerly housed Lauth's headquarters, is close to being purchased from LIP Holdings LLC, an affiliate of Chicago-based Inland American Real Estate Trust.
Inland, a former financial backer of Lauth, took possession of the buildings as part of the bankruptcy reorganization of Lauth Investment Properties LLC, a Lauth Group affiliate whose bankruptcy reorganization wrapped up in 2011. Lauth Group since has moved its offices to The Congressional, a 181,000-square-foot office building at 116th Street and Pennsylvania Parkway in Carmel that it bought last year.
 
Strong demand and U.S. 31's transformation to a limited-access expressway, expected to be finished in 2015, have helped to make buildings along the corridor an attractive investment, Vollbrecht at Zeller Realty said.
"When you see these national tenants (Geico and American Specialty Health among them) choosing Carmel and Indianapolis to do business in, we're playing in a different league right now," he said.
 
Please enable JavaScript to view this content.