Mr. Canary Co.'s improbable success story began almost two decades ago, before the Carmel-based firm even existed.

Sisters Jan Long and Chris Mowery had little more than an idea in 1995 when they trekked to Kmart's corporate headquarters to pitch a product they thought had potential: a recyclable bird feeder their father had designed to promote his plastics business. They left with their first big contract.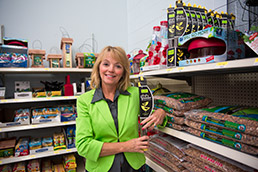 Jan Long had no entrepreneurial experience when she and her sister decided to rescue the Mr. Canary bird feeder from obscurity. They got their first break with Kmart. (IBJ photo/Aaron P. Bernstein)
"We sold thousands before we owned it," Long, 58, said of the Mr. Canary brand, which the sisters soon bought back from the wholesale seed company that ended up with it after their dad retired. "We were so naïve, it's just shocking."

But they were quick learners, and working with giants like Kmart provided valuable lessons on topics such as market research, sales forecasting and inventory management.

Not-for-profit Carey Services in Marion signed on to handle assembly, packaging and distribution, providing work for 75 to 100 disabled individuals—and giving Mr. Canary a heartwarming story to go along with its time-tested product.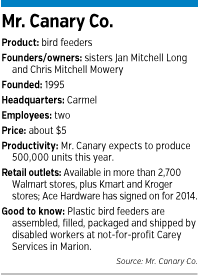 Now, Mr. Canary's seed-filled finch feeders are perched on shelves at retail outlets nationwide. Long declined to disclose financial results, but production is expected to top 500,000 this year.

Its biggest customer is Walmart, which sells the finch feeders for $5 in about 2,700 stores. That's up from fewer than 500 stores last year, a jump Long attributed to new packaging that's more appealing and takes up just 3-1/2 inches of shelf space. Having a new buyer assigned to its account didn't hurt, either.

"I think he just liked us, liked our story," said Long, who calls herself a capitalist with the heart of a social worker. "We are creating jobs for people with disabilities, giving them dignity and improving their quality of life."

Indeed, unemployment among the disabled stands at 13.1 percent of those in the work force, almost twice that of workers without disabilities, according to the federal Office of Disability Employment Policy.

Organizations like Carey Services help disabled clients find and keep jobs, either with outside employers or in so-called sheltered workshops. Carey's in-house operation has been able to keep up with Mr. Canary's growth so far, and CEO Jim Allbaugh said it could handle even more work.

"It has worked really well for us over the years," Allbaugh said. "It's a service for our consumers who want meaningful employment."

Carey workers are paid, he said, and any additional contract revenue helps fund other agency operations. Equally important: the pride that comes from seeing a project through from start to finish.

"Being able to create this kind of work environment for individuals with intellectual and physical disabilities is very, very valuable," Allbaugh said. "And they provide great goods and services."

Quality matters, Long acknowledged, and she hopes Mr. Canary's retail success helps shine a light on the type of work disabled employees can do. She'd like nothing more than to outgrow Carey's capacity and create similar partnerships elsewhere.

"It's a great opportunity for the business and the community," she said.

Her sister, who has retired from day-to-day operations, steered the business to Carey initially because she was familiar with the organization through her prior work as a vocational education counselor in Marion. Long ran the state's court-appointed special advocate program for five years before she and Mowery landed the Kmart deal "for reasons that still mystify us."

Neither had any entrepreneurial experience. They came up with the idea of rescuing Mr. Canary from obscurity as a way to pay for shopping excursions. Once they made the leap into big-time retail, "it just started snowballing," Long said. "We were successful in spite of ourselves."

Walmart was a logical target, and the sisters got a shot after Long sweet-talked a buyer's phone number from an Arkansas dock worker and called at odd hours until he answered. She asked for a 15-minute meeting; he said yes.

"People prepare for months to make a Walmart presentation," Long said. "We walked in with a Post-it note with three things written on it."

Having about 18 months of sales history from Kmart helped, she said, as did the fact that Mr. Canary is made in the United States. (The thistle seed inside each 15-inch plastic tube is the only part of the product that's imported.)

Carey Services' involvement and the company's status as a woman-owned business also were advantages.

"Mrs. Long is a great example of Walmart's commitment to working with and guiding small businesses—especially woman-owned businesses," Steve Restivo, Walmart's senior director of corporate affairs, said in a prepared statement.

The company says it spent $11.6 billion with women- and minority-owned businesses last year through its Supplier Diversity Program. Dun & Bradstreet estimates Walmart spent $1.3 billion with Indiana suppliers during the 2013 fiscal year.

Long said doing business with the retail giant provides "instant credibility," but it's also hard work.

"Walmart makes you work, in a good way," Long said. "You have to know your business, do your homework, study. Our first couple years were not impressive."

But Mr. Canary's owners took the retailer's open-door policy at face value, asking for—and getting—advice from buyers and executives alike. When orders lagged several years ago, for example, Long called one of her contacts at home (he had just retired) and ended up walking through the flagship store with him, brainstorming possible fixes.

"A lot of small businesses have a love-hate relationship with Walmart, but I can't say enough good about the people there," Long said. "They helped our business grow."

Doing business with Walmart can be a double-edged sword, said Dan McQuiston, an associate marketing professor at Butler University. Keeping shelf space can be just as difficult as getting it in the first place.

"It's the 900-pound gorilla of retailing," McQuiston said. "They're always looking for the next best thing."

Mr. Canary's staying power is a "great credit" to its performance, he said. At $5 per feeder, the product is "right in Walmart's wheelhouse," McQuiston said, and employing disabled workers likely is another point in its favor.

That's not news to Long, who earned a master's degree in management as a 50th birthday present to herself.

"This is not brain surgery; we make bird feeders. Anyone could rip us off, and I'm kind of surprised no one has," she said. "But they can't rip off our story."•