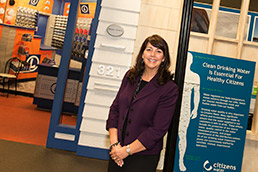 Jennifer Burk (IBJ photo/Eric Learned)
Why would a top executive give up a job with one of the most successful businesses in Indiana to head up a not-for-profit?
Just asking that question indicates one of the challenges faced by not-for-profit leaders. Let alone a financially struggling organization.
"I don't think there's a stigma, but there might be a curiosity about it," said Jennifer Burk who, in 2009, left a position with Duke Realty to become president and CEO of the troubled Junior Achievement of Central Indiana.
"My role at Duke gave me the opportunity to get involved in the community, serve on some boards, and do some volunteer work. My husband at one point said, 'It seems you come home energized by some of the volunteer work. I would support you if you wanted to consider a career change at some point.'"
Burk began work at Junior Achievement as a volunteer.
"I was in Exchange City [the predecessor to JA's interactive BizTown] and, because I was a lawyer, they put me in City Hall mentoring a group of students playing the mayor, a judge, an attorney, and an environmental agent. The environmental agent was so busy running back and forth to the other businesses all day to see if they were in compliance, writing up citations and certificates of compliance, dripping with sweat. He had on a navy blue suit jacket with sleeves extended below his fingertips and I asked if I could find a hook for it. He said, 'No ma'am. My grandpa loaned me this suit because I have an important job today.'
"That gave me a sense of what an important experience this is for kids."
Inspired, she accepted a spot on the JA board of directors. It proved a good fit for Burk, an education major at Butler University before earning her law degree from Indiana University.
She joined Duke Realty as a staff attorney in 1995 after a stint practicing business and real estate law at Ice Miller. Promotions led her to become the first female business unit head at Duke, taking her up to senior vice president of the company's Indiana group. When the leadership position opened at Junior Achievement, she was asked if she would consider taking over.
In 2012, her achievements with Junior Achievement were recognized nationally when—thanks to a debt-elimination plan (after three years in the red) and a roughly 20-percent increase in student reach over the previous year—the national JA gave the central Indiana chapter its Phoenix Award for most improved operation.
"I didn't fully appreciate the challenges until I was well into the job," she said, "but I was drawn to the opportunity to combine my love of business and my desire to work with kids."
The situation in Indiana, she knows, is challenging: "One of Indiana's most pressing challenges is the lack of a prepared work force," she said. "Our goal is to really [inspire kids] at an early age and continue to carry it through those critical middle school years. If we can show them that what they are learning in the classroom has a direct correlation to future success, we think we can keep them excited about their futures."•
Please enable JavaScript to view this content.