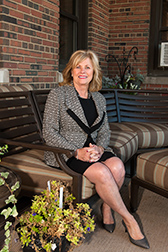 Carol Curran (IBJ photo/Eric Learned)
Carol Curran was serious when she named her company. Like the mythological bird that rose from the ashes, her 2001 startup, Phoenix Data Corp., rose from what would have led a weaker-kneed entrepreneur to give up.
"I had just sold another company and I decided to start over and kick it up a couple of notches on the technology side," said Curran, at the time a single mother with three children. "I approached a number of banks for a loan for payables to be able to hold us over until we got our first contract. Twenty-nine banks said 'no.'"
Rather than give up, she doubled down.
"I cashed in my insurance," she said. "I sold as much stock as was reasonable. I sized down. And the company was funded for the short term and we limped along." Even after landing a 10-year state contract, the banks said no. Too risky.
Those negatives proved a blessing in disguise: "So I've never borrowed any money," Curran said. "We've been totally self-sufficient. We fund our own bidding and payrolls and receivables."
It taught her, by necessity, to be frugal. And smart. When Phoenix Data Corp. launched, Curran saw that the company's future demanded securing business certifications to get access to government and military contracts. Seeing the potential in a process called particle swarm optimization, she sought out and hired the co-inventor of the process to be Phoenix's chief technology officer.
So what is particle swarm optimization?
"I'll use airplanes as examples," Curran explained, patiently. "If you have planes heading in the same direction and the first set are the good guys and the second set are the bad guys, swarm intelligence searches for the bad guys in the air. It allows the flier to zone in on the bad planes and take them out in nanoseconds."
There are non-military uses as well. "We worked on the logistics side for a big trucking company to help it load and stack in a much shorter time. We cut the time in half using swarm."
Business boomed. For Phoenix, 2011 marked 16 new hires, a more-than-50-percent increase over the previous year. In 2012, the company added 21 more, with another 33 expected once 2013 is tabulated.
A presenter at the 2013 Indiana Governor's Conference for Women, Curran is a member of the startup chapter of Women Presidents' Organization and serves on the board of the Indiana Chamber of Commerce. She's on KeyBank's advisory board and also serves on the National Association of Women Business Owners committee that, in January, will launch Young Entrepreneur's Academy (YEA!), designed to take high school students through the process of starting a business over the course of an academic year.
The Phoenix environment, by her design, includes flexible hours for working mothers, a wellness club, and on-the-job training. Her employees select a charity to raise money for and Curran matches those funds.
"Honesty and integrity are two primary things that I feed on," she said. "I'm very proud of our reputation. We keep a clean slate. We stay under the radar. And we do a hell of a job."•
 
Please enable JavaScript to view this content.