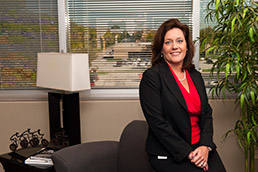 Barb Cutillo (IBJ photo/Eric Learned)
"We wanted to build a sustainable business that could withstand the ups and downs," said Barb Cutillo.
Ups and downs is a mild way to describe the mortgage business over the past decade. But the company Cutillo co-founded, Stonegate Mortgage, has done more than just weather the storm. It has become one of the fastest-growing privately owned companies in the United States for three years straight (according to Inc. magazine) and topped IBJ's list of fast-growing private firms in Indiana.
When Cutillo and her husband Jim (its CEO) launched the company in 2005, the focus was on jumbo construction loans on the north side of Indianapolis.
"During those first few years, it was difficult to grow rapidly because we weren't doing subprime loans," recalled Cutillo. "And difficult to recruit people because we weren't doing those kinds of loans. But we did find a few people who believed in the industry and we built a foundation on those folks."
That foundation proved stronger than most. Cutillo watched other companies with different philosophies go out of business when the economy turned. She's not ashamed to say she took an opportunistic approach during that time.
"There were a lot of people who were displaced who had great experience," she said. "We were able to hire from a great talent pool that was available all of a sudden."
Stonegate survived—thrived, in fact. With revenue of $84.2 million in the first half of 2013 (nearly triple the same period a year earlier), Stonegate launched an initial public offering in October. It now does business in over 30 states.
Holding on to the talent she has acquired is a high priority for Cutillo.
"We're kind of a family-based business," she said, "and we know that everyone has to take care of their family. And not just with a paycheck. We've always been as flexible as we can with work schedules and making accommodations for people."
Among those accommodations: a compassionate PTO policy where employees can donate hours to other employees. She also allows employees to work remotely, when appropriate, which she sees as helping with morale and with balancing work and family life.
Leading Stonegate's philanthropic activities, Cutillo has tied fundraisers into work life and aligned the company with Horizon House, Habitat for Humanity, the Muscular Dystrophy Association, Pets for Vets, and others. The playground by IPS School 105 was built in part by Stonegate staff. And when employees are wearing jeans to work, that's a sign they've donated money to a charity for that privilege.
"It's just a part of the company culture to help others," she said, pointing out that the very business she's involved in, helping families purchase homes, is a stabilizing factor for communities. "These are the people we see in our neighborhoods—in the baseball fields and in the churches."•
Please enable JavaScript to view this content.