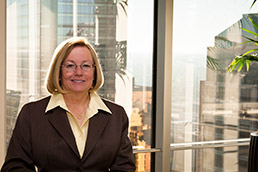 Francina Dlouhy (IBJ photo/Eric Learned)
It's one thing to open doors for yourself. It's another to expand the openings in those doors for others.
As the first woman appointed to the management committee of what was then Baker & Daniels—and as one of the firm's first two women to become a partner—Francina Dlouhy sees helping others as a key part of her job.
Thanks in large part to her efforts, Baker & Daniels adopted a reduced-hours policy to help balance work and family for talented staff it wanted to retain. Adoption reimbursement credits, flex time and remote work options are just some of the results of her efforts.
"The most important thing we have is talent," Dlouhy said. "When you spend years training a young lawyer to be a senior lawyer, why make the only option walking out the door? Balancing work and home life isn't just a women's issue. It's a family issue."
Dlouhy's original career plan was to be a securities lawyer. But a senior partner at Baker & Daniels suggested she try tax law. Her initial response: "I'm not a CPA. I can barely balance my checkbook." But her resistance dropped after she immersed herself in a case involving interstate shipments.
Now, with more than 35 years of experience in law and leader of FBD's tax group, Dlouhy has filed more than 100 cases in Indiana Tax Court, represented many Fortune 500 companies, and was named a Sagamore of the Wabash. Her alma mater, IU's Maurer School of Law, named her to its elite list of Academy of Law Alumni Fellows, the highest honor it presents to its law school graduates.
She's in demand as a board member, serving on the board of advisers for the Sisters of St. Benedict in Beech Grove, with the Indiana Manufacturers Association, and on the Indiana Chamber of Commerce's tax committee.
"I'm a big believer in not being on a board for a long time," she said, despite having served 13 years on the board of governors for the Riley Children's Foundation. She also believes in not just looking for involvement that matches your day job. "I hate to be asked to be the financial person on the board. I look for something different than what I do day in and day out."
As a mentor, she believes in assisting young lawyers both inside and outside her practice group.
"Young lawyers usually assume that they cannot develop business," she noted. "They expect that they'll just get work from a partner. I tell them to start from day one building your reputation, your skills and your networking even if you don't think you can do it. I believe in getting people out to visit clients, to learn their business."
And, for Dlouhy, one-on-one communication—ideally away from a computer screen—is preferred.
"People are so pressed for time. We communicate so frequently by email. But a real conversation can tell you so much about a person. I get frustrated that people down the hall won't come down and talk to me."•
Please enable JavaScript to view this content.