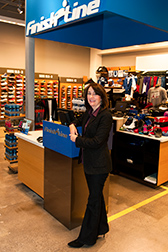 Melissa Greenwell (IBJ photo/Eric Learned)
Melissa Greenwell didn't start her career in human resources. She said she fell into it.
After 10 years in customer service with Alcoa, she began looking for a career change. She joined a small software company as a project leader and, there, found herself doing lots of team development projects bringing people and resources together. Once the firm grew to a size that needed a true HR function, company officials invited her to lead it.
"I remember when I was first asked to head HR," she recalled. "I wanted to talk to the CEO about what he thought HR was and was not. I said, 'I don't want this to be about policy and handbooks and administrative stuff that has to be in place. I want to focus on performance. How do we help people be more productive?'"
In 2008, Greenwell joined The Finish Line, where the scale may have been different but her ideas were still relevant. There, she led leadership development programs, recognition programs, flexible work schedules, employee fun programs and a redesign of the Finish Line benefits plan.
"We have a strong focus on developing talent," she said, noting the company's efforts to identify strong potential employees and connect them with leaders in the organization. She also believes in thinking beyond the walls of each department. Offerings include online learning programs for all parts of the business, leadership boot camps, and quarterly leadership panels.
"We believe in moving people around for career development," Greenwell said. "Just because you worked in finance doesn't mean you can't run customer service."
She also created a new strategy for corporate giving.
"We spent a fair amount of time studying what we would really get invested in," she said. "We outsourced the work to identify the cause that would most resonate with our employees and it happened to be Special Olympics."
Greenwell couldn't have been happier—she's been on Special Olympics' Indiana board for eight years. (There was no connection, she said, between her board involvement and its selection by Finish Line.) Through its five-year partnership, Finish Line staff has generated more than $1.5 million annually and has given untold hours of time.
In another partnership, Greenwell initiated a CrossFit program with Reebok, with full-time certified instructors—and was one of the first doing push-ups and squats with a small group in an office at the Finish Line distribution center. The program now includes 170 participants in a branded CrossFit area where employees can be found just about any time of day. A Virgin HealthMiles program rewards employees for steps taken throughout the day. Smoking cessation costs are covered 100 percent.
Finish Line even formed a partnership with Green B.E.A.N. Delivery. "Every Tuesday, the truck shows up at 4:30 and people get their fresh veggies for the week." There's also free fruit in break rooms.
"She has actually changed the way we view HR here at Finish Line," said Glenn Lyon, Finish Line chairman and CEO. "Our executive team relies on her and her team to help develop strategies and initiatives that equip our associates with 'premium' resources both professionally and personally."•
Please enable JavaScript to view this content.