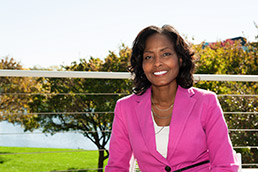 Thea Kelly (IBJ photo/Eric Learned)
In the legal profession—the least diverse of all white-collar professions—Thea Kelly has proven a strong advocate for inclusion, serving on the Leadership Council on Legal Diversity, the Indianapolis Bar Association's Diversity Job Fair and Bar Leader Series, and B&T's Diversity Summit for high school students.
"So often, I'm the only one in the room who looks like me," Kelly said. "In order to change that, people ask me to help bring more of the same forward." And she's happy to do it. For Kelly, "diversity"' is just the invitation; "inclusion" is being asked to dance. Inclusion is what she strives for. And that often starts with an awareness of possibilities.
"I have wanted to be a lawyer since I was in junior high—but not because I knew anyone who was a lawyer," said Kelly, the first in her family to complete college. "Those people who looked successful all had letters behind their names. I wanted letters behind my name."
Her exposure to lawyers as a child was largely negative, seeing people she knew in trouble with the law.
"I saw public defenders," she said. "But I didn't want to be a criminal lawyer. I wanted to be on the side to change things."
Her high school counselor encouraged her not to go to college, pushing her toward secretarial work or business school. She didn't take that advice … although she does wish she had picked up some of the skills.
"I didn't learn how to type until well after college," she admitted.
Instead, she listened to her mother, who encouraged her to reach beyond what was expected. Skilled in math, Kelly studied and worked in accounting before going to Indiana University to study law. The combination led her to work as a tax attorney for Ice Miller before her 12 years at Dow AgroSciences. As global counsel for operations, she advised on business strategies to assess and mitigate risk.
Now senior counsel for Dow, she has led contract negotiations and drafting on transactions related to manufacturing, licensing, development and design services, amounting to over $1 billion in sales.
While her work for Dow has taken her all over the world, she focuses much of her philanthropic work near home. She was key, for instance, in helping secure funding for improving the Indianapolis-Marion County Public Library Job Center and facilitated financing for a Pike High School STEM program, which encourages students to pursue science, technology, engineering and math.
"I work and live in Pike Township," said the mother of two (her daughter graduated from Xavier University while her son attends Indiana State University). "So I use every opportunity that I have to help people—particularly girls and under-represented minority classes. We need to be able to reach people in school and encourage them. To tell them they can."
"Moreover," she added, "I am also of the Madeline Albright school of thought—being that I, too, believe that there is a special place in hell for women who don't help other women."•
Please enable JavaScript to view this content.