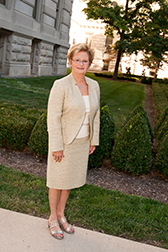 Connie Lawson (IBJ Photo/Eric Learned)
Something Indiana Secretary of State Connie Lawson learned while meeting Hoosiers around the state: Most people don't understand what the secretary of state does.
"They may know about being the chief election official," said Lawson, who spent 16 years as a state senator before her appointment by then-Gov. Mitch Daniels in 2012. "But they're unfamiliar that we license securities professionals and investigate securities scams. Most don't know that we license and regulate motor vehicles."
On the road for two to three days a week, the first woman to serve as a majority floor leader in the Indiana Senate relishes the opportunity to speak to groups around the state, explaining how she encourages financial literacy. That can mean addressing high schools about budgeting and the need for personal fiscal responsibility or senior citizens on protection from investment fraud.
As a businesswoman, it's something she may understand better than most career politicians.
"Jack and I started from scratch," she said of the Danville auction business she and her husband own. "He went to auction school at 16. I was clerking in the auctioneering business. It gave me an understanding of what it means to work hard—what it takes to be successful that gives me empathy for what I see on a daily basis. To know what they are going through."
The second eldest of eight children, Lawson took a caretaking role from an early age. She's translated that instinct into mentoring and is still in contact with many of the interns she oversaw while in the Senate. "It's been an important part of my growth to watch them learn about state government and stay interested."
She traces her own political interest to a county judge who encouraged her to run for county clerk. She was also inspired by her mother, who served as a missionary in Indonesia for eight years after losing her second husband to cancer.
Among the achievements she's proudest of while in the Senate: the creation of a department of child services separate from the Family and Social Services Administration.
"I also really enjoyed working on the public policy side of mental health issues," she added. She also authored a resolution encouraging development of employment and training opportunities for people with disabilities.
As chairwoman of the Indiana Commission on Developmental Disabilities, she created a system to keep families together and explore ways to better address the needs of high-cost/high-need individuals. In 2012, Lawson won the Lifetime Achievement Award from Mental Health Awareness of Indiana.
She's organized community service projects, led canned food drives for Gleaners Food Bank, collected suits and business attire for Dress for Success, raised money and awareness for the Lupus Foundation, and served as honorary chairwoman of the 2013 Walk to End Lupus Now.
State Sen. David Long, president pro tempore of the Indiana Senate, calls her "one of the most diligent, honorable, intelligent and successful public servants I have ever known."
And Lawson is just as gracious about her colleagues on both sides of the aisle.
"The people that serve are decent people trying to represent their districts," she said. "It's hard work. You can't please everybody."•
Please enable JavaScript to view this content.