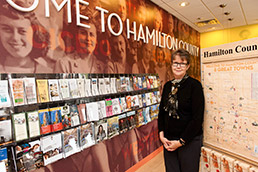 Brenda Myers (IBJ Photo/Eric Learned)
The executive director of a convention and visitors bureau is primarily responsible for selling a region to non-residents, right? Well, Brenda Myers goes far beyond that.
"When I interviewed for this position," said Myers, executive director of the Hamilton County Convention and Visitors Bureau, "the board was looking at how the organization would go into the next decade—how it would remain relevant. The board saw that the growth was naturally going to occur—that the county was obviously growing rapidly. But what were we going to do to be part of that growth?"
Myers had experience on both city tourism and cultural heritage via previous gigs that included vice president of marketing and public relations for the Indiana Historical Society, executive director of Tour Indiana, and public affairs director for Conner Prairie Interactive History Park.
Early in her tenure at the Hamilton County CVB, she met with representatives of stakeholders throughout the county. Based on that input, she decided her tenure wouldn't be about just how to market but also about how to help these organizations be what they wanted to be.
She pushed raising the bed tax in Hamilton County from 3 percent to 5 percent to invest in local product development and community.
"The hotels were OK with it, the county council agreed, the board agreed," she said.
Thanks to that increase, combined with the near doubling of room capacity, she found her budget rise from just under $1 million to more than $3 million today.
Her bureau became actively involved in not just promoting, but also in transforming locations into destinations. (Myers calls it "running alongside them rather than just watching them.") It meant looking not just at big, existing attractions such as the Palladium but also at economic drivers and local amenities such as soccer fields and baseball diamonds. It meant looking at street-scaping in Cicero, a community arts initiative for Arcadia, refurbishing a log cabin in Sheridan, and enhancing historical interpretation for underground-railroad sites in Westfield.
Under Myers, the Hamilton County CVB served as lead grantor for Conner Prairie's balloon exhibition; for the eight-field, baseball-tournament-luring Billericay Park in Fishers; and for Grand Park Sports Campus in Westfield—which she calls the single most impactful project in the last quarter century of Hamilton County tourism.
And then there's the Nickel Plate Arts Center.
"Never did I think we would own an arts organization," she said. "But what that has done for that part of Noblesville is pretty extraordinary. And what it has done for the community is even better. It will be self-sustaining in five years."
"It takes a lot of patience," she said. "You have to germinate ideas, do feasibility studies, react when resources are available, work with organizations that are often all volunteer-run—but have enthusiasm and vision—and help them figure out how to make it all come together. That's how you get a Grand Park.
"We're just one part of it. The cities are doing the heavy lifting. And it's not easy to move all those parts forward. But it's a great thing when it all works."•
Please enable JavaScript to view this content.