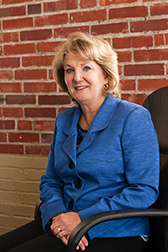 Jane Niederberger (IBJ Photo/Eric Learned)
Between the time she was notified she would be among this year's Women of Influence honorees and the time of her interview and photo, Jane Niederberger went to work for a different company. Well, sort of.
Niederberger had been chief operating officer of the Indiana Health Information Exchange, a not-for-profit spreading electronic medical records throughout the state. To expand nationwide and raise capital, the IHIE created Thrive HDS Inc., a for-profit company where Niederberger is now COO.
"In health care, things are never calm or boring," Niederberger said. "I've never thrived on boring."
Before IHIE and Thrive HDS, Niederberger held a number of posts with Indianapolis-based health insurer WellPoint Inc., including serving as general manager for Anthem's central region and as Anthem's chief information officer. With Niederberger in charge, Anthem's IT unit was cited by Information Week as one of the top IT groups in the country.
"I have a degree in nutrition," she said. "I had always looked at being in science and went to school for science. But when I went to work in hospitals, I found I liked the payer side."
That led her to WellPoint, where she helped the insurer redefine customer service.
"They didn't assume the patient was a customer," she said. "I was part of that wave where we were looking at things differently."
While almost every business says it's focused on customer service, the proof is in how those firms behave every day. "When issues come up, if your first thought is, 'How is the customer impacted?' rather than, 'What does it do to our bottom line?' then you're there."
Niederberger said her mentors include her grandmother.
"She lost her husband at a young age. Growing up, I always remember her telling me, 'Make sure you are independent enough that you can stand on your own.' She wasn't waving a banner for women's rights but at a certain point, I would hit a fork in the road and those conversations with her would stick with me."
Outside of the office, Niederberger serves on the board of the technology-promotions group TechPoint and as chairwoman of the Dean's Advisory Council of the Indiana University School of Informatics.
"For the most part, it's a who's who of Indiana's tech community and it really opens eyes to all of the things that are happening and should be focused on," she said of the advisory council. She also appreciates the school's push toward increasing the involvement of women.
Niederberger also is on the board of Conner Prairie Interactive History Park. She is impressed with not only its focus on history, but also its emphasis on the sciences.
"I'm a continual learner," she said, "and to be associated with an organization where that is its daily mantra is very attractive to me."•
 
Please enable JavaScript to view this content.