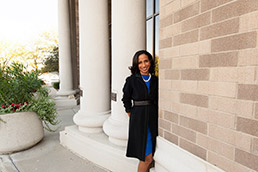 Dr. Una Osili (IBJ Photo/Eric Learned)
When it comes to teaching your kids to be charitable, what's more important: what you say or what you do?
Obvious, right? We are trained to believe that actions speak louder than words. But when it comes to charitable giving, Dr. Una Osili's research reveals that what we say is vital. "We tested whether verbal socialization—talking to kids—has a stronger impact compared to role-modeling. And we learned that you have to talk about giving if you want them to be charitable."
Talking about—and analyzing—philanthropic research is at the center of Osili's professional life. As director of research at the Indiana University Lilly Family School of Philanthropy, she has one of the highest-profile jobs in her field.
The daughter of two professors, Osili grew up in Nigeria and has maintained a global perspective throughout her career. Her dissertation explored how immigrants to the United States saved money and shared with family members in their origin countries. She's on the board of the African School of Economics, founder and immediate past chairwoman of the organizing committee of the Philippe Wamba Fund for road safety in Africa, and a board member for the African Finance and Economics Association, among other affiliations.
"It's exciting to be in a place that has the ability to see changes globally," said Osili, "and how philanthropy can play a very important role."
Closer to home, she directs Giving USA: The Annual Report on Philanthropy, the key publication reporting on the sources and uses of charitable giving in the United States. First published in 1956, it's the longest-running report on philanthropy in the United States.
"We know that research and knowledge can help inform decision-making for donors, policymakers and not-for-profits," she said. "Historically, though, there's not a whole lot of data." Where philanthropy once consisted of a lot of wishful thinking, metrics now make it easier to see if desired ends are met.
"There is a strong interest in creatively leveraging resources," she said. "What role can philanthropy play in providing risk capital and testing ideas before they are funded by the state or federal government?
"You see it in New York with Mayor Bloomberg using philanthropy as a way to test models. You see it at IU with cancer research—the early stages tend to be funded by private dollars until there is enough hard evidence for [federal funding]. We're seeing more collaboration across government, private and philanthropic sectors to achieve results."
She proudly serves on the board of St. Richard's Episcopal School in part because of its strong emphasis on service and giving back. "It embodies a lot of what we hope for educational opportunities here in Indianapolis."
"You have to realize how much people invested in you," Osili said. "We want to emphasize that to our kids—that sense of reaching back and then paying it forward. Making sure you leave behind a more peaceful, more just place."•
Please enable JavaScript to view this content.