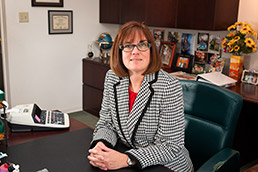 Debra Ross (IBJ Photo/Eric Learned)
I don't care if you are the person who sweeps the floor, delivers the mail, or is the president," said Debra L. Ross. "Everybody has a role to play."
As executive vice president and chief financial officer for The National Bank of Indianapolis, Ross sees one of her roles as making sure her employees feel like the key players she believes they are.
"It's important to make them feel like they're just as important as anybody and I truly feel that way," she said. "You do appreciate their hard work and you show it not just monetarily, but with a fun activity or just as simple as thanking them or bringing in a treat that makes them feel like home.
"We spend at least eight hours a day here—sometimes that's more than we're home. So we want that environment where, even if it's sometimes pretty hectic, employees are on board to do whatever it takes."
Of course, the size of the staff and scale of the bank is different since she joined it in 1993, the year IBJ co-owner Michael S. Maurer helped found it. What began as one location now has a dozen addresses and $1.6 billion in assets. What was once a staff of 15 now approaches 300.
"Even though we're larger then we were," said Ross, "we still have a small feel and we're still very much team-oriented. There's not a lot of layers of people to report to—the person whose answer you need isn't in another town or state. It still feels like a small bank."
She credits that, and the bank's conservative approach, with its ability to weather the financial crisis.
"We had a good game plan," she said. "We were affected, but not like most banks, thanks to our very conservative nature. We aren't out there reaching. We stayed within Indianapolis and surrounding counties trying to serve their needs, not going to another state."
"I'm a pretty conservative person myself," she added. "I'm not an entrepreneur. Not a big risk-taker."
She saw elements of the recession as an opportunity to secure strong talent.
"When banks are bought out, the people on the operations side often lose their jobs, especially if they've been in a small bank," she said.
And those are the kinds of people she likes to hire.
"They aren't just focused on one job, which is what you find in, say, a Chase employee. That's one of the first, key things we look for. Are they in it for themselves or in it for the team? We don't want to hire somebody who doesn't fit with the bank's philosophy."
That philosophy, she said, also includes the open sharing of ideas.
"We don't always agree, but my bosses are very gracious about letting me have my opinion. As long as I present my viewpoint, we can talk. I never felt like I had to keep my mouth shut and do what I was told."
A past board member for Keep Indianapolis Beautiful and the American Society of Women Accountants, Ross is active at Friendship Church in Greenwood and indulges in her passion for history as a member of Indiana Landmarks and the Indiana Historical Society.•
 
Please enable JavaScript to view this content.