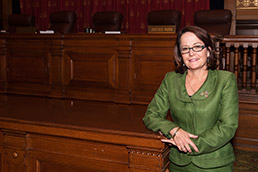 Loretta H.. Rush (IBJ Photo/Eric Learned)
I wouldn't call them heated. I'd call them lively. We have some lively discussions," Indiana Supreme Court Justice Loretta H. Rush understated when asked about working with her colleagues on the state's highest court.
And Rush is usually leading the discussions—not by choice, but by virtue of being the most recent appointment to the court, last December.
"The newest justice votes first," she said. "Justice Rucker sat in my chair and voted first for 11 years. There are no passes."
The give and take of such discussions are a highlight of the job for Rush.
"We all like the law a lot. We like talking about the law, about how you interpret a statute. I like the scholarly approach the Indiana Supreme Court takes. We may not always agree, but we have good, collegial discussions."
The second woman to be named to the court—and the first in 13 years—is used to intensity. For 14 years, the Indiana University law school graduate served as a judge in Tippecanoe Superior Court, focusing primarily on juvenile cases.
There, she assisted in creating the Tippecanoe County Court Appointed Special Advocates program. Before serving as a judge, Rush spent 15 years as an associate and partner at Dickson Reiling Teder & Withered in Lafayette, where she specialized in civil litigation, family law and other areas.
She started out studying engineering at Purdue University but said she learned the value of being open to suggestions and change. That change included her first run for judge.
"I really hadn't put a lot of thought into it," she said. "But when I was approached to be on the ballot, I learned all that I could."
For Rush, it's not about your own achievements but what you can achieve as a group.
"I don't see myself alone," she said. "I think sometimes our system can be a bit of a barge. It's tough to get it to move. But you can when you have people collectively passionate about issues working on those issues."
In addition to her more visible duties, Rush serves as liaison to the Judicial Conference Problem-Solving Court Committee, and State Board of Law Examiners.
She is also chairwoman of the Commission on Improving the Status of Children in Indiana, the Indiana Conference for Legal Education Opportunity and the Indiana Juvenile Justice Improvement Committee.
"I'm constantly working to educate the public about the justice system," she said. "I think we are the least-known branch of government."
To that end, she's invited the public—and journalists—into her courts.
"A journalist in Tippecanoe followed our juvenile court cases and a lot of good came of that. Every day in every way, the judiciary has to work to improve public trust so that citizens know that the rule of law in Indiana is just."
"You want your Supreme Court to be a beacon," she said. "And I very much understand the responsibility of the job I have. I walk into the Statehouse every morning early and take a big breath. I don't ever take this for granted."•
Please enable JavaScript to view this content.