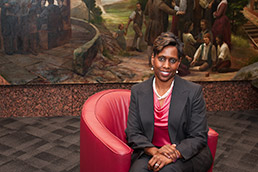 Karin W. Sarratt (IBJ Photo/Eric Learned)
As a health care professional in a time of much debate and confusion, Karin Sarratt is used to answering a lot of questions.
"At work or a cocktail party or at the soccer field, there's always questions," she said. "I happen to live next to a doctor and we were chatting last week at the mailbox about the impact of the Affordable Care Act for him and his clients."
Rather than seeing those interactions as intrusions, Sarratt sees them as part of her job. Communication is key—especially if you have a leadership role at one of the largest U.S. health insurers.
"We have to be ambassadors," she said. "You want people asking about your company. It's a role I'm all too happy to play."
It's quite a role change for Sarratt, who took a key role with WellPoint in 2012 after 15 years working for Memphis-based International Paper, where she had just taken an assignment in Brussels, Belgium, overseeing human relations for a region spanning Europe, the Middle East, Africa and Russia.
"I think this was our 12th move," she said. "I've lost count."
At WellPoint, she takes the lead on work-force cultural strategies, managing a $61.8 million budget and more than 462 full-time employees for the Fortune 500 company. Her responsibilities include succession planning, management and leadership development, performance management, learning and recruitment, and talent retention.
In her short time in the position, she's created a new purpose statement for the company, accelerated staffing plans for public and private insurance exchanges, leveraged more than $20 million in investments for technical skill training to support the transformation of her business, offered more than 7,000 courses, launched a career-building site for in-house tools and training, and instituted programs yielding nearly $1 million in savings over three years.
She admits the learning curve was steep.
"We had to train a significant number of existing associates and hire and prepare almost 2-1/2 times the number of people we had year over year," she said, sounding more enthusiastic than exhausted. "I certainly haven't mastered the health care industry. But I learn every day that there's something new and exciting."
As someone looking to attract talent to her company, she's excited about being on the steering committee of Indianapolis Downtown Inc.'s Velocity project.
"It's great to have a hand in that," she said. "To see how it's being embraced by the community at large and by the people who live, work and play downtown."
Her first mentor wasn't a doctor or insurance professional.
"It started with my high school track coach," she said. "I was a quarter-mile hurdler, quarter-mile relay. And he just had a great way of being an encourager and stretching me beyond what I thought I was capable of. That's what great mentors do."
"Not only do I enjoy it," she said of mentoring, both formally and informally. "I feel responsible and accountable. I think it's required for anyone who aspires to be a great leader."•
Please enable JavaScript to view this content.