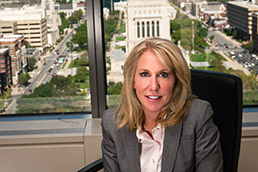 Sherry Seiwert (IBJ Photo/Eric Learned)
When the search committee for Indianapolis Downtown Inc. went out hunting for a new president, it scoured the country—only to find its ideal candidate in its own back yard.
As executive director of the Indiana Housing and Community Development Authority, Sherry Seiwert was managing a staff of 90 with an annual operating budget of $14 million and a project budget of more than $500 million. And that job was only the most recent in a series of positions that took her in and out of the political world, always with a focus on metropolitan development.
"I actually worked at the IBJ right out of college working on the lists of top whatevers in industries," Seiwert said.
She didn't care for that work, but better gigs quickly followed. She worked for Mayor Bill Hudnut in his Department of Metropolitan Development, where she oversaw contract work with neighborhood development groups. One had just lost its director and, even though it had little money, she accepted an offer, became a staff of one, and focused on the area around 30th Street and Martin Luther King Jr. Boulevard for five years.
"It's very difficult being surrounded by such disinvestment day in and day out," she said, but it made her more sympathetic to urban issues.
"That," she said, "is where I really got started."
Mayor Stephen Goldsmith asked her to come back to city government, and she accepted. Six years later, she gained more of a national perspective working for the Local Initiative Support Corp., a community development organization. Next stop was the state.
And now, IDI.
"A downtown is the strength of a city," she said. "As long as downtown is thriving, our neighborhoods can only benefit."
She strives to get beyond buzz terms like "quality of life" and "tactical urbanism" into tangible results. She's been instrumental in developing Velocity, a five-year plan that has involved more than 4,000 people. It will be completed and presented in November. She hopes to implement some of its "quick wins" as soon as 2014.
"As people move downtown, there could be a lot more amenities. For instance, there's not really a downtown park to take your kids—we have lots of green spaces, but they aren't very activated."
She's eyeing University Park, just north of the federal building. She thinks the park could use a water element—or maybe bocce ball.
"We want people to ride their bikes downtown, but there aren't public rest-rooms. It could be as simple as that."
She finds the roots to her public service interest in her father, a Tipton County judge.
"I spent my summers working in different capacities as an intern around the county building. Watching my father give back in his role certainly influenced my decisions."
As for her own impact, Seiwert serves on multiple boards, with an emphasis on those that work with the homeless (including Back on My Feet and the Coalition for Homelessness Intervention and Prevention). Even so, she is modest to a fault about her influence.
"I play kickball and dodgeball and drive a Harley," she said. "I don't have any illusions about impacting anyone's life."•
 
Please enable JavaScript to view this content.