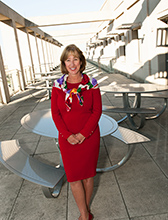 Jacqueline A. Simmons (IBJ Photo/Eric Learned)
It shouldn't come as a surprise that a woman who has traveled to China 57 times has a global perspective on her job.
"A good 25 to 30 percent of my time has been spent on various international issues," said Jacqueline Simmons, vice president and general counsel for Indiana University.
"We are involved right now in opening gateway facilities in India and China. That understanding of how things work in different international communities—and learning the complications when setting up entities in other countries—has been very helpful."
She credits Tom Reilly of the Indianapolis-based chemical company Reilly Industries—the boss who sent her on those China trips—with helping the IU law grad find her career path.
"He convinced me that, rather than go on to an MBA or med school, going into business with him would bring the challenges I was looking for."
Simmons was with Reilly Industries from 1994 until 2006, a span when she traveled frequently. "I now know China fairly well and learned how to negotiate in completely different cultures."
Those negotiating skills helped propel her to partnership at Baker & Daniels, where she led the firm's international practice.
"I would say most would see me as a tough negotiator," Simmons said. "But also as somebody who really listens to the other side and tries to find a way to bridge the gap so both sides come out feeling like it's the right alliance or contract."
Throughout her career, she maintained ties at IU, serving on boards and teaching as an adjunct faculty member.
"I certainly understood a lot more because of my involvement in volunteer activities at IU," she said. "And understood more about how complicated it is to run campuses at eight different locations—to be a part of that many different communities—and make consensus agreements."
(At home, finding consensus is easier—at least when it comes to alumni matters. Her husband and three daughters also graduated from IU. Simmons joked that it wasn't the best fiscal timing to take a job whose benefits included tuition remission after 18 years of paying the school for her family's education.)
Soon after taking the position in the spring of 2012, Simmons set about finding efficiencies.
"We were able to achieve some substantial cost savings by narrowing the number of law firms we worked with and getting each of those to provide a discount," she said.
"That gave us cost savings in the hundreds of thousands in the first year."
She also made changes that benefited vendors, such as improving the bill-paying process so they were paid in 30 days instead of nine to 10 months.
One of the biggest surprises after a year and a half on the job has been the amount of cooperation she's seen between universities.
"If you have an issue," she said, "there's probably someone else in the Big Ten ready to share what they've' learned. The collegial, friendly attitude—rather than seeing us as rivals—has been a very pleasant surprise."
For Simmons, there's no such thing as a "typical" day at IU.
"Even when I think I have a day that's fully scheduled," she said, "it always ends up being changed. But it's all fun."•
Please enable JavaScript to view this content.