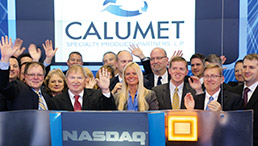 Jennifer G. Straumins (IBJ Photo/Eric Learned)
I don't know what I would have chosen if my destiny was in my own hands," said Jennifer G. Straumins. And it's difficult to tell how serious she is being.
"I was 16 when my dad bought Calumet," she said of the Indianapolis-based oil refiner. "He came home the night of closing and said, 'It's up to you and your brother to take this over someday.'"
F. William Grube, her father, gave her three choices of subjects and three choices for where to get an MBA.
"Lucky for me, I was very good at math and science," she said.
Straumins chose chemistry, doing her undergraduate work at Vanderbilt University. The expected MBA came from the University of Kansas.
"And the rest," she said, "is history."
That history included taking Calumet public in 2006, growing it to include 11 manufacturing facilities and 1,300 employees. It's now one of the leading independent refineries in North America, with a capacity of nearly 160,000 barrels a day. Products include oils, solvents, waxes, asphalts and fuels.
Still, she said, "we work with people who have been with the company from the beginning and still see it as a small, private company."
For her, the biggest challenge came from entering the business her father built and gaining the respect of the people she works with.
"Refining is a male-dominated industry," she said. "I'm 20 years younger than most of the people I work with and I'm usually the only woman in the room."
Still, she likes to keep a family atmosphere at Calumet—but that doesn't mean being a pushover.
"We run this as one, big family," she noted, adding that she and her father know everyone within the company. "Now, families don't always get along, but you kiss and make up at the end of the day."
At Calumet, she said, "your career path is going to be what you bring to the table. A lot of progressive, entrepreneurial people like that. We give a lot of decision-making power at young ages. If you work for a bigger company, you aren't going to get that until later in your career."
She maintains an open-door policy and makes it a point, whenever she is in the refineries, to talk to the operators, not just management.
"Those guys often have great ideas for optimization and taking some costs out of the equation. They know what's going on in the trenches."
She knows that public perception is a big problem in her industry.
"Just because you run a refinery doesn't mean you hate the environment," she said. "We spend tens of millions a year on safety. People have the perception that you are destroying the environment, but that's not the case at all. We're building a refinery in North Dakota. It's a booming oil state, but you don't see anything. It's all underground."
She also doesn't think the public—and investors—are aware of the impact her business has on everyday life.
"That's the one that always amazes me," she said. "There are so many consumer end products that our base products go into—Vaseline, chewing gum, cosmetics—people don't realize."•
Please enable JavaScript to view this content.