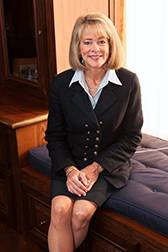 Connie Bond Stuart. (IBJ Photo/Eric Learned)
It was a 33-years-in-the-making homecoming for PNC's Connie Bond Stuart when she accepted a transfer to Indianapolis in 2012.
The Indiana University graduate started with PNC in 1980 as corporate banking relationship manager in Pittsburgh, advanced to senior vice president while working in the Washington, D.C., office (at which she helped establish its Office of Real Estate Finance), then jumped to Delaware to become regional president.
"I really didn't intend to go into banking," she said, despite a family history. Her father was chairman of Vincennes' Security Bank & Trust and her grandfather served as president of The Oaktown Bank.
She originally focused on retailing, using her undergraduate studies in marketing and advertising to land a job at L.S. Ayres.
"What I really liked about retailing was interacting with people," she said. "What appealed to me about banking was taking that to a higher level." Once she secured her MBA, she had found her calling.
"I thought I would stay for a year but enjoyed my employers and the opportunities so much," she said. "There was a steep learning curve at times, but I like to be challenged. Every time we relocated, the people I worked with really pulled together and welcomed me as part of the team. That's fun. Especially when you may face some challenges along the way that you didn't see coming."
In banking, those challenges included a complex series of mergers as well as the downturn in the economy. Stuart credits her success, in large part, to her focus on the customer.
"You really have to listen closely and understand what their own plans are and how you help them get to that point," she said.
That help extends beyond the office. Stuart serves on the boards of the Greater Indianapolis Chamber of Commerce and the Central Indiana Corporate Partnership, and co-chairs the United Way Central Indiana Early Childhood Business Council.
"PNC as an organization has two key community focuses: economic development and early childhood education," Stuart said. "The third one is business development. So I take those three aspects into consideration in any board I'm evaluating."
During her time in Delaware, she was central in developing PNC Grow Up Great, a multiyear bilingual program to improve preschool education. As a result, Delaware won $119 million from the U.S. Department of Education's Race to the Top program and won a challenge grant for another $49 million.
She wants to see the same kind of improvements here.
"Forget quality. We don't even have consistency and safety and cleanliness. Every child deserves a chance and we can really help," she said.
It's not just the top brass pushing such efforts. PNC employees are encouraged to take up to 40 hours of paid time to volunteer with early childhood education programs at a select group of facilities.
"It's my job to make sure that our employees are working together with a focus on our customers to make sure their needs are met and also on serving our community," she said. "You can't do that without people who are involved in giving back."•
 
Please enable JavaScript to view this content.