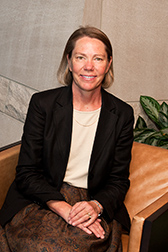 Beth T. Young (IBJ Photo/Eric Learned)
Beth T. Young served as a clerk to U.S. District Court Judge S. Hugh Dillin, practiced with Baker & Daniels and Bose McKinney & Evans, and rose to partner with Robinson Wolenty & Young.
But 30 years of law practice haven't kept her from staying active in the sorority she joined at Indiana University, Kappa Alpha Theta.
No, she doesn't supervise pledge week or stage car washes. She has served as a board member and financial adviser of the Beta (IU) and Gamma (Butler University) chapters while also mentoring scores of undergraduates.
"They are just incredible women who inspire me," she said. "Seeing these women start out as freshmen and then become wonderful leaders by the time they get out of college is wonderful. Their energy is compelling. It drives me."
As an undergraduate at IU, Young initially focused on political science.
"I had taken some econ courses," she recalled, "and had the opportunity to study abroad in a program looking at the European economic community and the ideas behind what would become the European Union.
"When the credits came back to IU, they were listed as economics classes because, alphabetically, it comes before Poly Sci." She realized she only needed one more upper-level economics class and, voila, a double major.
Still, she wasn't sure where she was heading. "All of my business major friends were having wonderful interviews and, hmmm, what am I going to do? So I went to law school."
She said the list of mentors who helped her find her way is "incredibly long. Every step of my career, I had wonderful people who have helped me along."
And taught her to give back.
"A litigator can represent the indigent in a court setting. But I wasn't in a court setting," she said. A better fit for Young was the Community Organizations Legal Assistance Project/Community Development Law Center. Her work there led the Indianapolis Bar Association to issue her its pro bono service award.
"I kinda sorta have a problem saying no," she said, noting that the causes often choose her instead of vice versa. Similarly, Young isn't sure if she chose her specialization in real estate law or if real estate law chose her.
"It was a bit of both," she said. "When I was at Baker, I was doing labor law and pretty quickly figured out that I didn't enjoy litigation, which was so highly competitive. One side had to win over the other."
At around that time, she was having children and wanted to have a more regular schedule.
"Bose had this position in real estate on the north side, and we lived there," she recalled. "And I thought, 'How wonderful. Litigators can't control their schedules. Real estate lawyers can.' So I interviewed and got the position … and then found out that I still had to stay late because closings weren't quite as predictable as I had imagined."
But she did appreciate that, rather than try to win cases, she could focus on solving problems.
"You zealously represent your client," she said, "but both sides are trying to get the transaction done. I like that aspect better."•
 
Please enable JavaScript to view this content.