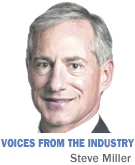 Today's specialty medications are modern miracles, helping millions of patients with chronic, life-threatening illnesses such as cancer, multiple sclerosis and rheumatoid arthritis.

Unfortunately, these mostly biologic drugs are also the most expensive in health care's arsenal.

For far too long, our country has paid far too much for these medications. Biologics range from $1,000 to more than $50,000 per treatment. In some cases, these drugs cost hundreds of thousands of dollars per year per patient.

And these drugs aren't experimental; they are important and treat very real chronic conditions that touch all of us.

We forecast that the country will spend roughly $114.7 billion on specialty medications—mostly biologics—in 2014. At that point, $4 out of every $10 the country spends on prescription drugs will be spent on these complex medications that are used by only 2 percent of the population. Slightly more than half of this spending will occur in the pharmacy benefit, the rest in the medical benefit.

Despite international success, biosimilars still face delays in the United States.

Patients in Europe and Asia have taken advantage of biologics' generic counterparts—biosimilars—which have lowered treatment costs there as much as 40 percent. It proves an easy equation: Increased competition means lower prices.

Unfortunately for all of us, these more affordable biosimilars are not yet available in America. The United States took the first step toward biosimilars in 2010, when the Biologics Price Competition and Innovation Act was enacted. Since then, the Food and Drug Administration has been working to build this pathway so that it works for patients, physicians and payers across the country.

I believe there is opportunity to improve this biosimilar pathway, and that the country will benefit greatly from doing so.

Express Scripts recently developed a financial model projecting that the U.S. would save $250 billion from 2014 to 2024 if just a handful of biosimilars were to enter the market.

This estimate is based on the 11 existing biologic drugs that are the most likely candidates for biosimilars in the next 10 years. The assumptions were based on conservative estimates of use, cost and consumer inflation. By the end of 2024, none of the drugs in this group will be patent-protected, unless extensions are granted.

The savings from a biosimilar pathway is likely to grow significantly greater when an additional set of major biologic drug patents expires between 2026 and 2028.

Roadblocks arise from both the nature of biologic drugs and the recent FDA regulatory pathway established for the approval of biosimilar drugs. Being a biologic means the drug is manufactured using living organisms rather than by chemical reactions.

Biologic drugs are large, complex proteins. Because of natural variability in living cells, uncontrollable small differences are inevitable in both the biological manufacturing processes and the resulting molecules. Traditional drugs are chemically synthesized, they are much smaller molecules, and they can be manufactured with virtually zero variability.

Right now, large biotech manufacturers—the makers of brand-name biologics—are lobbying to preserve their drugs' market share at the expense of chronically ill patients. These groups have introduced bills in multiple states that would create obstacles for the substitution of their biologic drugs, thus creating impediments for biosimilar use.

These companies claim the purpose of their legislation is to protect patients from unsafe medications. The real motive, however, is to create barriers for competition. The result of these bills would be to preserve profits for the large biotech manufacturers and higher drug costs for the American public.

The FDA will not approve an unsafe biosimilar drug. In fact, when the FDA does approve biosimilars, these products by statute will have demonstrated the same safety profile as the original biologic drug.

As soon as possible, let's ensure that Americans can start taking advantage of these more affordable, life-saving medications.•

__________

Miller is chief medical officer of Accredo Specialty Pharmacy, a subsidiary of Express Scripts, which employs about 600 at its Indianapolis facility. Express Scripts also operates a home delivery pharmacy for traditional medications in Whitestown, which employs nearly 600.