For low-income Hoosiers shopping on the Obamacare exchange, Anthem Blue Cross and Blue Shield is ready to make them an offer they can't refuse:
Free health insurance.
Indianapolis-based Anthem is touting "zero-premium plans" throughout Indiana. The health plans are priced in such a way that their premiums would be no greater than the federal tax subsidies that low-income buyers could claim.

Nefouse
The catch? The plans come with huge deductibles: $12,700 for family coverage and $6,350 for single coverage—the maximum amounts allowed under Obamacare, which is formally known as the Patient Protection and Affordable Care Act.
It's unclear how popular the zero-premium plans will be. Anthem officials declined to disclose their sales projections for the plans, but they said low price was by far the most important factor cited by 55,000 consumers Anthem's parent company WellPoint Inc. surveyed before creating its exchange policies.
"Anything that is zero I think is going to be attractive," said Rob Hillman, president of Anthem's Indiana operations. "Given the research that we've done, brand is important, but price is king; benefit is important, but price is king."
The zero-premium plans are just the most extreme example of a broader low-cost, high-deductible sales strategy that has Indianapolis-based WellPoint salivating over the money it will make in the Obamacare exchanges—and has hospital systems worried about spiraling levels of unpaid bills.
Anthem expects to sign up more than 156,000 individual insurance customers next year, about 60 percent of whom it expects will receive a federal subsidy, according to documents Anthem filed with the Indiana Department of Insurance. Most consumers will likely choose to have those subsidies paid by the federal government directly to Anthem each month to reduce their premiums.
Indeed, Anthem expects half the total premiums it collects from individual customers next year to be paid for via federal tax subsidies. That will be nearly $382 million, based on Anthem's projections of premiums and membership in its filings with the Insurance Department.
Repeating that story in all 14 states in which WellPoint operates a Blue Cross or Blue Shield plan explains why WellPoint CEO Joe Swedish remains bullish on Obamacare. He predicted in July that Obamacare would spike WellPoint's revenue 27 percent over the next three years, to $90 billion.
"This potential for top-line growth far outpaces anything we have seen in recent years," Swedish said.
But the proliferation of high-deductible plans is mixed news at best for doctors and hospitals, said Doug Leonard, president of the Indiana Hospital Association.
"They're basically getting the subsidy for free," he said of Anthem's zero-premium plans. "It's a pretty clever way to go about this, but it doesn't hold any attractive benefit for hospitals."
Leonard noted that consumers are not nearly as good about paying their medical bills as insurance companies are. When those customers have low incomes to begin with, the likelihood of them paying a bill of $6,000 to $12,000 is even lower.
"That's a heck of a lot of money," Leonard said. "It's not a lot different than when they were uninsured."
Deductibles already high
Anthem is not the only health insurer that will be competing in the exchanges. But since it already claims about 60 percent of 178,000 Hoosiers who buy health insurance individually, most observers assume it will also grab the lion's share of the roughly 600,000 Hoosiers projected to buy coverage through the Obamacare exchanges by 2017.

Hillman
For next year, the four health insurers offering coverage in the Obamacare exchanges expect to insure about 200,000 Hoosiers. Fort Wayne-based Physicians Health Plan of Northern Indiana Inc. expects to sign up about 4,500 customers. And Indianapolis-based MDwise Inc. expects to claim nearly 38,000 customers. St. Louis-based Centene Corp. expects to insure about 1,350 Hoosiers.
Hospitals still strongly support the expansion in coverage that the Obamacare subsidies will provide, Leonard said. That's because even high-deductible plans will cover most of the bills for catastrophic illness that now go almost completely unpaid by uninsured Hoosiers. Payment for a few large bills could offset lack of payment on lots of little bills, Leonard noted.
Hillman and Joe Gilbert, Anthem's regional vice president for individual insurance, also noted that the Anthem plans will, as required by Obamacare, cover preventive care at 100 percent of costs and offer discounts on prescription drugs.
Gilbert also noted that Anthem's lowest-cost plans on the Obamacare exchanges—bronze plans—will have average deductibles roughly equal to what has been common on individual health insurance policies before.
Up until now, individual insurance policies for family coverage have commonly had $10,000 deductibles. The average deductible on Anthem's bronze plans will be $10,663.
"That's just where the market has been going for quite some time," Gilbert said.
Indeed, high-deductible plans are on pace to become the dominant type of health insurance, according to a September report by the California-based Kaiser Family Foundation.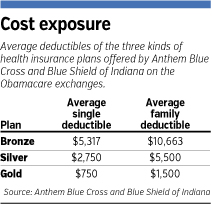 The number of employer-covered workers in high-deductible plans has doubled since 2009, to 20 percent this year, according to Kaiser's annual survey of employers. The percentage is about 5 percentage points higher among Indiana employers, according to a survey by the benefits consulting firm Mercer.
In Indiana's individual market, insurance policies with the largest deductibles tend to attract healthier patients, who don't have lots of regular medical bills. Anthem's Hillman expects the same to occur with Anthem's zero-premium plans.
He also emphasized that the zero premiums will be accessible primarily to folks who have incomes of less than 150 percent of the federal poverty limit, or about $32,300 for a family of four.
Low price will rule
Anthem will offer four kinds of policies on the exchanges: gold, silver, bronze and catastrophic, with the last category available only for customers under age 30.
Anthem declined to disclose what percentage of its exchange customers it expects to choose a bronze plan. Its filings with the Insurance Department discuss membership projections only for silver plans—which will charge higher premiums and have lower deductibles.
But Anthem expects less than 25 percent of its customers to choose silver plans, suggesting that the lion's share of policies will be bronze.
That's also the expectation of Physicians Health Plan, which is also pursuing a low-price strategy on the exchanges. According to its filings with the Insurance Department, nearly 53 percent of its customers on the Obamacare exchanges will choose bronze plans.
By contrast, MDwise is emphasizing health plans with slightly higher premiums and lower deductibles. It expects 90 percent of its customers to choose silver plans, according to its Insurance Department filings.
MDwise, which is owned by two hospital systems, is trying to keep its deductibles around $1,500 to protect the finances of hospitals, explained CEO Charlotte MacBeth in a presentation last month.
Tony Nefouse, an insurance broker in Indianapolis, expects most customers to choose high-deductible bronze plans, but he's seeing few select the zero-premium plans.
"What I'm seeing is that they're actually buying up to a little bit better plan," Nefouse said.
He produced a quote for a single 54-year-old woman in Indianapolis with $24,000 in income. It would have her pay Anthem $36 per month, after accounting for the tax subsidy. She would receive 20-percent co-insurance for drugs and doctor's visits from Anthem on medical bills, and have a deductible of $5,000, instead of the maximum $6,350.
Nefouse said he has attracted "a ton" of interested clients since the Obamacare exchanges went live on Oct. 1.
His clients have so far been unable to actually purchase policies on the exchange, because the federal government's website, HealthCare.gov, has been beset by numerous technical problems.
Nefouse expects those problems to be fixed eventually, but so far, they seem to be discouraging younger, healthier customers from signing up. If the problems persist until late November, as the Obama administration predicts, he said, that will limit the market size for Anthem's zero-premium plans.
"There haven't been a lot of young, single males," Nefouse said. "That's what been a little bit shocking, because they'll qualify for these zero-premium plans."•
Please enable JavaScript to view this content.