One of the players vying to redevelop the former General Motors metal-stamping plant has set aside room in his plans for a roughly 10,000-seat stadium where his own North American Soccer League franchise could play.
Keystone Group President Ersal Ozdemir, who owns the Indy Eleven, has said he'd like his team to play in an 8,000- to 12,000-seat outdoor stadium downtown by 2017. The redevelopment of the abandoned GM site could meet that time line.
Four finalists are vying to redevelop the property along White River south of the Indianapolis Zoo. Besides Keystone, Ambrose Property Group, Buckingham Cos. and REI Investments are the other finalists.

Ozdemir
Sources familiar with the proposals said they are primarily mixed-use plans with office, residential and retail developments. Keystone's proposal has one other interesting feature.
While it doesn't contain plans specifically for a soccer stadium, sources said Keystone's bid has a sports component that could later be converted into a soccer stadium. In previous interviews with IBJ, Ozdemir has said he'd need 10 to 12 acres for a soccer stadium suitable for his franchise; the GM site is 102 acres.
Those familiar with the plans said Keystone could wait a year or so to see how the development takes off before deciding whether to add a soccer stadium. Or the company might be willing to gamble that a soccer stadium that also can host a variety of events—from youth and collegiate sports to outdoor concerts—could act as a catalyst for his development.
The developers are prohibited from discussing their plans. And officials with the Michigan-based Revitalization Auto Communities Response Trust, which is responsible for selling the site, also wouldn't divulge any of the proposals' specifics.
Since it would take 18 months to two years to design and build the venue Ozdemir wants—which would be expandable to 22,000 seats—he doesn't have endless time and doesn't appear to have anything else suitable for his stadium in the works.
The Indy Eleven are finalizing a deal to play their inaugural season, which kicks off in fall 2014, at the Michael A. Carroll Track and Soccer Stadium. But Ozdemir has made it clear the stadium on the IUPUI campus is a temporary solution.
Ozdemir told IBJ earlier this year that he could envision building the soccer stadium within one of Keystone's larger developments.
"The location will be critical to the success of this," Ozdemir told IBJ when unveiling plans for his team. "We definitely think downtown is the best place for this venue."
The criteria RACER is considering in selecting a developer for the stamping plant includes price, potential jobs created, and the developer's reputation. While RACER officials technically have the final choice, city officials have a big voice since any developer would want city approval—and financial incentives for their plans.
A decision is expected by year's end, with demolition likely to start in the spring.
Tearing down the massive plant will take a number of months; construction could begin as early as this summer or fall. Demolition will be handled by a separate firm hired by RACER.
Major obstacles
Ozdemir declined to talk with IBJ for this story, but sources said he has one major concern with the stamping-plant site: He feels it could be too remote unless a pedestrian bridge or some other crossing is built over White River.
There's another problem, too. Some sports business experts think Indianapolis would struggle to support a fourth downtown sports venue.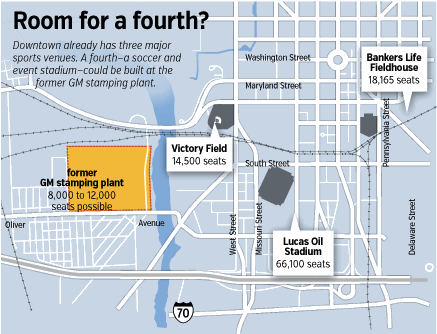 The city currently owns the 66,100-seat Lucas Oil Stadium, 18,165-seat Bankers Life Fieldhouse and 14,500-seat Victory Field. And while city officials said the new soccer stadium would likely be privately owned and not require tax dollars to operate, it could compete with those venues not only for sports tickets, but for other events also.
The Indy Eleven are likely to have only 15 to 20 home games per year, so team officials would need to make it a multi-use complex to pay the bills.
"At some point, you have to wonder how much more this market can support," said former IUPUI dean and sports business author Mark Rosentraub. "It's a strong sports town, but given its size, it's a very crowded sports marketplace."
"There's no doubt" a stadium with expanded capacity of 22,000 seats would compete with Lucas Oil Stadium and Bankers Life Fieldhouse—for sports and non-sports events, Rosentraub said. "A facility like that could derail the stability of the other venues. I'd suggest moving with extreme caution."
Mayor Greg Ballard has come out in strong support of the Indy Eleven and a downtown stadium for the franchise.
"The big issue is the timing," said Deron Kintner, deputy mayor of economic development. "I'm not saying it's today or tomorrow or next week, but the mayor feels when the time is right for this [soccer stadium], the economic impact will be much greater if it's downtown."
The Indiana Sports Corp. also supports a downtown soccer stadium. CEO Allison Melangton said it would help her organization bid on a wider variety of events for the city.
Milt Thompson, a local sports marketing consultant and member of the Capital Improvement Board, which oversees the city's sports venues, said an 8,000- to 12,000-seat multi-use stadium could fill a void but added, "They could face the same challenges IUPUI faced when they considered a multi-use venue.
"I'd have to know a lot more before I rendered an opinion," Thompson said. "I'd have to know exactly how many permanent seats they're going to have, what types of amenities the venue would have, and what types of events they're going to attract."
Strong soccer support
One thing is certain; the Indy Eleven has gained a solid following long before the team takes the field. A long list of city and state officials and even the Indiana Pacers—who could compete with the soccer franchise for ticket-buying fans and events—have come out in support of the team.
Indy Eleven officials told IBJ this month that they have already taken deposits for 6,924 season tickets. Team officials are capping deposits at 7,000 so they will have some group and single tickets to sell at the 12,000-seat IUPUI stadium.
A soccer stadium would not cost nearly as much as the $750 million Lucas Oil Stadium or Bankers Life Fieldhouse, which was completed in 1999 for $183 million. In 2008, a United Soccer League franchise in Montreal built a stadium with 13,000 individual seats, 16 luxury suites and a giant video screen for $13 million.
Before Ozdemir can further contemplate his soccer stadium, he has to beat out three formidable competitors. The finalists were selected in August from a pool of 12 local, regional and national developers by the trust overseeing GM's abandoned sites as part of the company's bankruptcy.
All four finalists have been involved in high-profile local projects.•
Please enable JavaScript to view this content.