Jim Dalton was a ministry student at Anderson University when he took a job in a group home for children with developmental disabilities. It changed his life.
Now the 47-year-old child psychologist spends his days—and often his nights and weekends—leading an organization with $43.5 million in revenue that serves clients with severe intellectual and behavioral challenges.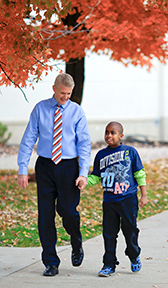 New Damar CEO Jim Dalton hopes to improve on the agency's fundraising efforts. (IBJ Photo/ Aaron P. Bernstein)
As Indianapolis-based Damar Services Inc.'s new chairman and CEO, Dalton is responsible for keeping the not-for-profit's programs on track despite obstacles like declining government reimbursement rates and increasing expenses.
At the top of his to-do list: quadrupling the agency's annual fundraising results.
"Like all mental health care organizations, Damar is facing greater financial, operational and regulatory challenges than at any other time in our history," board Chairwoman Gail H. Shiel said in a prepared statement. "We're extremely confident in Dr. Dalton's vision and abilities as we navigate the future together."
His ascent after 12 years at Damar follows the departure of longtime CEO Greg Johnson, who retired in August due to health issues. Dalton had been preparing for the job for years, working alongside Johnson as the agency's president and chief operating officer since 2010.
With 950 employees and 1,400 volunteers, Damar provides an impressive array of programs: In addition to operating a 46-building residential campus on the city's southwest side (including seven dorms, an indoor pool/fitness facility and a private school), the agency runs a public charter school, an off-site autism clinic, and supervised group and transitional-living homes throughout the state.
Despite its reach, Damar has been slow to develop a significant base of community support. Contributions and grants totaled only about 1 percent of revenue during the 2012 fiscal year, according to its federal tax filing.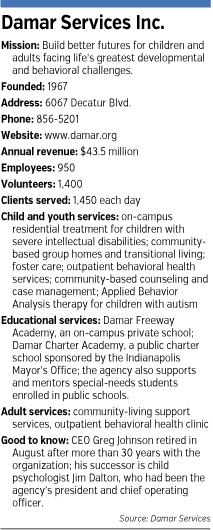 With income from operations barely covering expenses, Dalton said the organization's future depends on its ability to raise money for intangibles like ongoing 24/7 accessibility to Damar staff.
"It's those extras that make a difference in families' lives," he said. "We work with the community's most vulnerable citizens, both children and adults. That requires resources."
There's no easy way to achieve Dalton's ambitious $2 million-per-year goal. Rather, it will require "creative, energetic, realistic" strategies, he said.
A public-awareness campaign was one of the first steps, and it already is paying dividends in the form of burgeoning partnerships with organizations ranging from the Indianapolis Colts to Conner Prairie Interactive History Park.
Some Damar clients get "MVP" treatment at home Colts games, for example, and the agency gets to share its story with legions of passionate football fans.
"We get exposure, some new friends and maybe some new funds through that," Dalton said.
The agency also is using the relationships as an outlet for advocacy and education, he said, including special training for other organizations on how to serve the disabled population.
"It's my dream to walk into [the grocery store] one day and know that all the employees are friendly and supportive of children and adults with disabilities," he said. "A lot of them are not respected."
Another new fundraising initiative: Damar's Donor/Volunteer Marketplace, an online tool scheduled to debut Nov. 12.
Developed by Terre Haute-based MillerWhite Marketing and housed on Damar's website, the platform will allow visitors to "shop" for opportunities to give time or money, said Communications Director Nicole Woods.
Damar will list specific needs—$1,000 to pay for students' eyeglasses, for example—and donors can choose what to support, then receive updates when the target is reached and the project completed.
"They will be able to see their gift make a difference in real time," Woods said.
"It engages them in our mission," Dalton agreed.
One of Indianapolis consultant Jessica White's charity clients used a similar strategy during a capital campaign several years ago, asking donors to help buy needed-but-inexpensive items like kitchen utensils and lamps.
The plea resulted in a number of gifts from new donors, White said, some of whom became significant contributors. But such tactics can go only so far, she cautioned.
"My client never would have been able to raise $3 million for its building if not for foundations and major gifts," White said. "If you're talking about raising sizable sums, nothing beats face-to-face contact."
That's one of the reasons Damar is exploring the idea of forming a supporting foundation, a separate not-for-profit with its own board focused on nothing but raising money (and cultivating donors). The agency's existing development staff likely would seed the new organization, Dalton said, at least to start.
Fundraising is an important aspect of his new job, of course—along with an assortment of other duties ranging from quality and compliance to human resources. Even when his calendar is full of meetings, it's a rare day that he doesn't visit with clients.
"The skills and talents we have at Damar are just remarkable, but I try to be involved and engaged," he said. "There's something that grabs at your heart every day. I cannot get away from that."
That firsthand experience gives Dalton the credibility necessary to navigate a challenging industry, Shiel told IBJ.
"He's got the energy, knowledge and leadership abilities we need," the board chairwoman said.
His team has some work to do on the operations side, too. The organization has made inroads into community-based services in recent years in response to treatment trends, and Dalton expects that movement to gain momentum.
"There will always be a need for this place," he said of the residential campus, "but strategically we're moving out into the community."
He also expects Damar to expand programs serving disabled adults ages 60 and older, a population with special medical and mental-health needs.
"It's kind of a natural progression for the organization," Dalton said. "It's an invigorating time for us, even with the challenges."•
Please enable JavaScript to view this content.