Derek Pacqué has answered one question ad nauseam in the past year.
Why did he turn down Mark Cuban?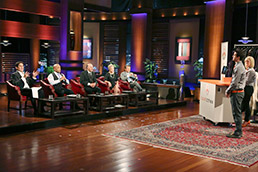 Entrepreneur Derek Pacqué last year fielded tough questions from the cast of "Shark Tank," including IU alum Mark Cuban. Cuban offered to buy a stake in CoatChex. Pacqué turned him down. (Photo courtesy of ABC)
"I'm OK doing it," he said with a lighthearted sigh. "It's that story that the mother tells the child every night before they go to bed."
The 24-year-old, who started CoatChex in 2010 while attending Indiana University, grabbed national attention a year ago.
He appeared on "Shark Tank," the ABC show in which entrepreneurs pitch their ideas to prominent investors. He wanted $200,000 in exchange for a 10-percent stake in his company.
Cuban—the dotcom billionaire, Dallas Mavericks owner and loyal IU alum—tore into Pacqué on the September 2012 episode over why, only a year out of school, he thought his digital coat-checking business was worth $2 million when it didn't have any customers yet.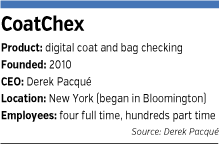 However, Cuban saw merit to the business's concept and offered to put in the $200,000 Pacqué wanted. Except, he wanted a 33-percent stake, which valued the company at only $600,000.
Pacqué said no.
A year later, he stands by his decision. He felt his company was too valuable to undersell it for what Cuban thought it was worth.
At least he knows Mark Cuban now.
"The fact that he still answers emails from me is great," Pacqué told IBJ during a phone interview from New York. "Hopefully, when the timing is right, I can get him to come in and invest."
Having Cuban's insights and resources a phone call away would be nice, he thinks some days.
But really, he said, the company is doing just fine without the billionaire.
Four people run the business full time as it rotates through hundreds of part-timers throughout the year.
CoatChex left Indiana in April and set up shop in New York, where the tech startup has more customers within easy reach.
Restaurants and bars still give him business, but the firm has set up in larger locales. It has worked with clients as large as JP Morgan Chase when they sponsor events in venues as prominent as Madison Square Garden.
Pacqué is pushing for $500,000 in revenue this year after pulling in $120,000 last year. Sales could quintuple next year.
It's an impressive performance for a business that started because a college kid lost his coat.
Born at a bar
Pacqué has told this story a lot, too.
While an entrepreneurship student at IU, he visited a bar with friends. He stashed his coat in a corner and turned his attention elsewhere.
Naturally, the coat vanished.
"It irritated me that there were no coat checks," he said. "I eventually became fed up with it, so I went out and talked to the bars. I was told, 'It's a mess. It's a hassle. It's annoying.' So I thought, 'If they don't want to deal with it, maybe I can.'"
Originally, Pacqué and his friends started a traditional coat-checking service at bars in Bloomington and Indianapolis, paper tickets and all. He'd charge $2 or $3 per coat, then hand a piece of the revenue to the bar owner for letting him set up shop.
The business quickly started making $1,000 or more in a night. But, as it turned out, the bar owners weren't exaggerating about the ticket claims being a pain.
So Pacqué, with help from IU professor Gerry Hays, came up with the idea for a coat-checking service that uses mobile devices. Tim Kopp, ExactTarget Inc.'s chief marketing officer, has also advised Pacqué over the past few years.
Patrons give their phone numbers to CoatChex staff when they leave their coats. The employee uses the front of a tablet or phone to take the person's photo while simultaneously using the back side to snap a shot of the coat. The coat goes onto a hanger with a number and a QR code. When patrons leave, they give the employee the last four digits of their phone number, which pulls up the correct hanger number.
"It's one of those things that sounds like a novelty kind of idea," said Hays, who is also a principal at Noblesville investment firm Slane Capital. "However, the amount of data you can collect … at any given moment is extremely valuable."
Super Bowl and sharks
Slane provided CoatChex with an undisclosed amount of seed money as well as space in its office for Pacqué to further develop the idea after he graduated in 2011.
Investors on "Shark Tank" weren't thrilled with CoatChex's lack of customers, but serial entrepreneur Mark Cuban saw potential in the service itself. (Photo courtesy of ABC)
As luck would have it, a major event came to town the following winter.
Tens of thousands of people swarmed Indianapolis for the Super Bowl that February. As they moved from event to event, they needed to store their coats somewhere. CoatChex set up at parties hosted by Maxim magazine and ESPN.
"Those Super Bowl events were a validation that there was a demand and a budget for high-capacity coat checking," Pacqué said. "We had to take a margin hit since the ticketless system was not finished. Back then, we would over-staff to deal with the problems that came up from misplaced tickets."
Then CoatChex got onto "Shark Tank" after applying on a whim.
The sharks—Cuban, real estate tycoon Barbara Corcoran, venture capitalist Kevin O'Leary, fashion and branding expert Daymond John, and tech mogul Robert Herjavec—gave Pacqué a chilly reception since the company was not consistently generating revenue.
Cuban described Pacqué's decision to seek investments before having a finished product as a "horrible, horrible idea." But the billionaire also thought he could flip the company in no time in Silicon Valley, which is why he offered $200,000.
It was tough to turn down the investment, Pacqué said, but it was the right move.
At least he got the exposure on network television. The Nielsen Co. estimated 6.3 million people watched the show that night.
The attention, although a major marketing success, was a "double-edged sword," Hays said.
Getting onto the show initially consumed a lot of time. And afterward, Pacqué was busy retelling the story.
"It took three or four months just to give Derek some more breathing room to focus back on the business," Hays said. "We couldn't even keep up with the emails that were coming in. To the press, here is this kid that said no to Mark Cuban. He was doing interviews every other day."
Beyond kiosks
Market potential for the firm has moved outside the coat closet since the company moved to New York.
Technically, CoatChex is now one of two subsidiaries belonging to Chexology, a holding company Pacqué set up. The second subsidiary, a luggage-checking program, is BagChex.
Pacqué spoke of many other markets he's looking at: dry cleaners, valet services—anything that involves ticket claims.
"The process is always the same," he said. "You check them in, and you check them out. There is tons of potential for other channels."
He estimates the global market at $140 billion a year.
The system eliminates worries about irate guests having problems getting their coats back at the end of the night, said Ruth Heronemus, an account director for New York marketing agency MKG, which has worked with CoatChex on several pre-concert VIP parties, which usually attract about 100 people.
"People, all the time, lose their little tags for the coat check," Heronemus said. Meanwhile, "the person working the coat check has to trust that person—that that's really their coat."
On-site services will become a smaller facet of the overall business once the company launches a software service in early 2014.
The focus shift will open the company to a much larger base of customers, and will keep CoatChex concentrated on quickly providing customers with apps instead of staging events for them.
The real cash cow will be the data the software collects, Hays said. The program can log information as basic—and in demand—as when customers arrive and leave, which is crucial insight for restaurants and entertainment venues.
Pacqué has not ruled out a return to Indiana. Launching the business's software arm means he'll be less anchored to any one location.
"I'm going to be more nomadic."•
Please enable JavaScript to view this content.