Fishers-based Boomerang Development LLC has more than 1,100 residential lots at some stage in its pipeline, and President Corby Thompson knows that's not enough.

Thompson
Slow but steady growth in central Indiana's new-home market has chipped away at the supply of available lots, leaving developers and builders scrambling to keep up with demand.
Many are dusting off plans that were shelved when the economy tanked. Some are proposing new projects for the first time in years. Boomerang is doing both.
"The need is there, no doubt," said Thompson, a 25-year industry veteran and housing-bubble survivor. "I haven't seen enough projects filed to meet the demand."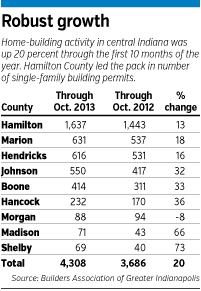 The Builders Association of Greater Indianapolis estimates 13,000 lots remain in the nine-county region—fewer than the number of homes erected in a single year during the housing heyday. If industry projections hold true, builders here will need more than 35,000 additional lots over the next five years.
And the clock is ticking, since land acquisition, engineering, design and assorted approvals can take 18 months or longer to complete.
"It's a lengthy process, so we need to make sure we're keeping enough lots ahead of us," said Steve Lains, president of BAGI, the Indianapolis-based builders' group.
Single-family permits in the region are up 20 percent this year compared with the first 10 months of 2012. Fast-growing Hamilton County has the most activity by far, with more than 1,600 single-family permits issued through October, but the pace has slowed as inventory drops.
Johnson, Hendricks and Hancock counties are still working through lots left undeveloped during the downturn, Lains said. He expects new projects to start popping up next year.
Stung by the precipitous drop from a seven-year stretch of explosive growth, the industry is still adjusting to the "new normal," he said. The resurgence of residential development north of 96th Street marks another milestone on the road to recovery.
"Builders and developers are starting to look at new opportunities again," confirmed Paul Rioux, whose Platinum Properties is serving as project manager on the newly resurrected Legacy mixed-use project in Carmel.
Filling the pipeline
Boomerang has two new proposals pending with municipal planners: Noble East of Noblesville, a three-neighborhood, 500-home master-planned community near Klipsch Music Center; and Ashmoor, an upscale 60-lot subdivision at 131st Street and Shelbourne Road in Carmel.
"The market has picked up," Thompson said. "It's not—and never will be—the way it was … but it's good, measured growth."
If Boomerang's plans pass muster, Noble East will be developed in phases over about eight years, he said. Ryland Homes and Pulte Homes have signed on as builders.
When it's done, the development should add $150 million of assessed value to Noblesville's tax base, Thompson said.
Among the proposed amenities: community gardens, on-site day care and a paved, Monon-like trail on either side of Lehr Ditch, a waterway that runs through the property.
Located north of 156th Street on either side of Boden Road, Noble East is adjacent to 200 acres of city-owned land slated to become a public park. It's less than three miles from the commercial hub at Interstate 69's Exit 210 and within pick-throwing distance of Klipsch.
Thompson acknowledges the challenge posed by the outdoor amphitheater, a magnet for noise and traffic during the summer months, but said it hasn't deterred other residential development nearby.
"I think Klipsch is there to stay," he said.
Work started earlier this year in Boomerang's Silverton neighborhood in Fishers (where two other projects are waiting in the wings), and crews should break ground this month on Lake Forest of Noblesville.
City officials signed off on plans for Lake Forest in March—the first such approval in Noblesville since 2007, when they OK'd a different proposal for the same property at 161st Street and Hazel Dell Parkway.
Boomerang is far from alone in resurrecting idle projects. In Fishers, for example, Republic Development is seeking primary plat approval for its 530-home Vermillion community, originally OK'd in 2006. Ryland and M/I Homes want to move forward with Steeplechase, a 350-lot subdivision from the same era.
Republic also is working on Silvara, a 360-home neighborhood at 116th Street and Springmill Road in Carmel.
Fishers and Westfield both issued more single-family building permits during the first 10 months of this year than they did in all of 2012, BAGI reported this month.
The 294 Westfield home starts reported through the end of September represented a total investment of $81 million, according to a quarterly snapshot prepared by the city's Economic and Community Development Department.
A second chance
Rioux's Platinum Properties was developing the 450-acre Legacy project at 146th Street and River Road when the bottom dropped out of the housing market, straining the small firm's finances and killing momentum.
Platinum filed for bankruptcy protection in 2011 and eventually lost the property to its lender. Virginia-based investor Falcon's Nest LLC bought it from the bank and hired Rioux to oversee the mixed-use development.
Now, J.C. Hart Co. plans to add 80 apartments to the 287 it built before the project stalled, and about 40 homes have risen in three single-family neighborhoods—which can accommodate a total of 300. A church, child-care facility and retail center have signed on for the main commercial area.
"The market's coming back. This is actually fun again," Rioux said. "It's been a rough three or four years, but we stuck with it."
Still, the recovery remains a work in progress. BAGI expects 5,000 homes to be built in central Indiana this year—the first time permits will have passed that threshold since 2007. The total is projected to reach 8,300 by 2018.
There may still be room to improve from there, but the industry has learned its lesson. Caution prevails among banks and builders alike. Even big projects like Noble East are starting small.
"We haven't forgotten what the problems were over the last five years," Lains said. "We put in a lot of large subdivisions, a lot of home sites, and when the market turned south, we had to pull back.
"Since then, we've done a good job not putting too many new lots in the ground. We're more conservative."
That temperance might come at a cost, though. Rioux said the local development community has been slow to ramp up and would be hard-pressed to accommodate a sharp increase in demand.
"We have got to be confident enough to add people, resources, equipment," he said. "We've seen the pit and I don't think we're going to go back there, but we're not running on a steep slope back to 12,000 [new homes a year], either."
That measured growth and a limited supply of existing homes for sale means homebuyers are adjusting, too. Gone are the days that a family could wait indefinitely to find the house of its dreams—and know it's still available.
"We're in a period right now when there's more demand than houses people want," said Laura Musall, a real estate agent with F.C. Tucker Co. "It's a completely different dynamic than a year or two ago."•
Please enable JavaScript to view this content.