Fall behind on the mortgage and count yourself lucky to get a modified payment from the lender.
Even then, foreclosure is inevitable if you're out of work and can't restore the income.
But what if the lender could help the unemployed/underemployed customer find a job and avoid the roughly $50,000 it can cost the institution to foreclose? Cincinnati-based Fifth Third Bank began trying that very approach in central Indiana a few months ago, in the form of a re-employment assistance program.
Participants receive up to 16 weeks of one-on-one counseling by a career coach the bank hires. There are online resources on job searching, resume-writing and a listing of jobs. That's made possible through a partnership Fifth Third struck with Oregon-based re-employment service NextJob.
By some industry accounts, Fifth Third is paying up to $1,500 per customer in markets where it has offered re-employment assistance.
The nation's 22nd-largest bank began piloting the program in other cities about two years ago, and says about 40 percent of participants were fully employed after six months.
It's hard to say how the program is working in the local market over the last few months, where the bank has invited about 50 people to participate, so far. Fifth Third officials wouldn't elaborate.
Identifying potential candidates for the program isn't difficult, as the bank is adept at monitoring payment histories. Some potential candidates are identified by staff at one of the bank's branches, for example.
It also runs across candidates through its "eBus" home ownership bus tour, which visits various neighborhoods to provide financial literacy counseling to underserved markets—including those experiencing foreclosure.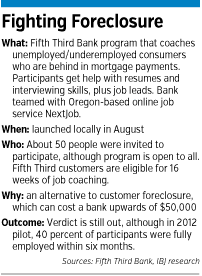 "We're trying to bring a number of resources to people where they are. … Everybody wants people to be able to stay in their houses," said Scenario Adebesin, senior vice president of community and economic development at Fifth Third.
Among them is Michelle Vasquez, of Cedar Lake, who completed the Fifth Third program and recently found a new job.
Vasquez has degrees in biology and chemistry but found job hunting had changed drastically from the days she could visit an employer face-to-face and sell her skills and personality.
"Now, [job searching] is more online. It's a lot more technical and cold," said Vasquez, who speaks glowingly of her job coach, "Denise," who helped her master social networking and establish a professional presence through sites such as LinkedIn.
Vasquez couldn't pay the mortgage after she lost her job, at a time her husband, a carpenter, was between jobs. She said the bank's concept is novel in going right to the source of the problem.
"What's the problem? Everybody's out of work," she said.
Adebesin characterizes the re-employment program as a "hand-up" rather than a hand-out, because it helps customers help themselves to restore income.
Oddly enough, the bank also offers portions of the re-employment program to non-customers who are struggling—something that could earn it some good will and new accounts.
Non-customers get access to the NextJob site and its employment resources, but don't get a personal job coach as would a Fifth Third customer.
Adebesin acknowledges the bank ultimately can do only so much to help keep a person in a home. "At the end of the day, we are a for-profit" institution.
While a lender's program can buy a borrower some time, many consumers remain too far over their heads in pursuit of the American dream of a dream home. Some who can't pay the mortgage might, in fact, not want to be too desperate to hold onto the home, said Grace Worley, a senior financial planner at Worley Erhart-Graves Financial Advisors.
Some consumers are better off to walk away as financially whole as they possibly can and start over on a more sound financial path, Worley said.
Like many planners, she recommends consumers sock away at the very least three to six months of expenses, in cash. The more the financial obligations, the bigger the pile of reserves necessary.
Many people drowning in debt don't have that cushion, unfortunately, and might find their first step is to plead for loan modification. It's here, rather than re-employment programs like Fifth Third's, where many a lender focuses efforts.
Typically, lenders like Forum Credit Union will suggest ways a borrower can reduce expenses or find savings through budgeting, said Chief Operating Officer Andy Mattingly.
"It's not just about modifying mortgages but looking at everything that they have" financially, he said.
He noted there also remain a few federal programs allowing consumers who owe more on their mortgages than their houses are worth to refinance at more affordable terms—something that could appeal to the underemployed.
Of course, as Fifth Third realized, it's hard to make any payment when you're out of work.
"We're doing OK. Right now, we're still in our house," Vasquez said.•
Please enable JavaScript to view this content.