Zender Realty could be close to unloading a portfolio of 16 downtown apartment buildings on the market for more than a year after a previous deal fell through.
The privately owned Zender Family Limited Partnership, an Indianapolis-based property management firm, first listed the buildings—many of them historic—without an asking price in August 2012.
Zender Realty thought it had a buyer and expected to close on the deal earlier this month. But the transaction ultimately fell apart when the potential suitor couldn't raise the funds, said Tim Zender, who runs the business with his four brothers and sisters.
"It was a little disappointing because of the time we spent [eight or nine months] with the interested buyer," he said. "It all came down to capital."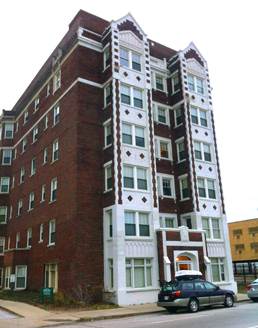 The Spink Apartments at 1433 N. Pennsylvania St. is among the 16 downtown properties for sale in Zender's portfolio. (IBJ Photo/Scott Olson)
All is not lost, though. Another interested buyer has stepped forward and is under contract to purchase the portfolio. Zender Realty could close on the deal within the next six months, Zender said.
George Tikijian of apartment brokerage Tikijian Associates is listing the portfolio. He said it has attracted some national interest, but the two serious offers have come from local firms.
"It's a group of properties that are highly desirable because they're downtown and they're cool buildings," he said. "But it's a tough deal to do. It's going to require a buyer that has the capital resources to get it done."
Zender Realty originally listed a portfolio of 18 complexes in 2008 for an estimated $40 million. The Drake at 3060 N. Meridian St. and the Whitestone a block north since have been sold.
The 16 available properties consist of a total of 873 units and are mostly located on North Delaware, North Meridian and North Pennsylvania streets. Some were built in the 1920s—or earlier—and have never been renovated, while others were constructed in the 1950s and rehabbed in the late 1980s. They are clustered downtown and just north of the city center, in areas that continue to experience improving occupancy rates and rising rents.
Downtown apartment occupancy has fallen slightly this year due to the number of new units hitting the market but still is a very healthy 95.4 percent, according to Tikijian's 2013 Indiana Apartment Market Overview. Overall, the city's occupancy rate is 92.1 percent, the report said.
Average rent for the metropolitan area grew 2 percent year-over-year, to $718 per month, with downtown rent increasing even more, by 2.3 percent, to $916, according to the report.
At the 48-unit Admiral, built in 1929 at 3025 N. Meridian St., rents range from $615 a month for a one-bedroom unit to $970 a month for a two-bedroom, for instance. Studio or one-bedroom units are only available in many of Zender Realty's older buildings.
 
The company is willing to break up the portfolio and sell buildings individually or in groups but prefers to sell the entire lot all at once, if possible.
"It does kind of limit your market," Zender acknowledged. "It's a big challenge for anyone coming in and trying to take that over."
Michael Wernke, who leads the multi-family group at Colliers' Indiana region, said the locations of the buildings make them attractive. But the large amount of new units opening in the downtown market could threaten their occupancy, he added.
"It will be interesting to see, with all the new construction downtown, whether tenants in the Zender portfolio might be inclined to move to newer units under construction," Wernke said.
Earlier this month, a study from Indianapolis Downtown Inc. downplayed concerns the downtown housing market might become overly saturated with apartment units.
IDI commissioned the survey by the Indiana University Public Policy Institute to track the future of downtown living. The urban core has seen a huge boom in multi-family development as market dynamics have shifted in recent years to support renting instead of buying.
Between 2000 and 2012, nearly 2,000 new rental units were built, according to Tikijian, bringing the total number downtown to about 4,700. But within the next three years, 3,500 additional units are expected to become available.
Zender said the decision to sell is motivated more by personal reasons than by any rush to cash in on the current market. The five partners all want to explore different interests.
The Zenders' parents, Jim and Grace, are no longer involved in daily operations but have an interest in the portfolio. Jim bought his first apartment building in 1970 and handed the reins to his children about 20 years ago. He remains active in the general partnership.
Please enable JavaScript to view this content.