Adam Thies' corner office on the 25th floor of the City-County Building is decorated in a no-nonsense fashion that complements his management style as director of the city's Department of Metropolitan Development.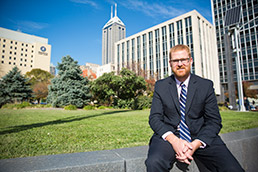 Adam Thies arrived as the city's director of metropolitan development in October 2012, having given up his consulting business to try his hand in the public sector. (IBJ photo/Aaron P. Bernstein)
"I tend to be honest, open and blunt," he said. "I'd just rather tell you what I know and move on."
So it's no wonder that, even after a year on the job, the walls of his space are simply adorned with an 8-by-10 Keith-Smart-autographed photo of his winning shot to send Indiana University to victory in the 1987 NCAA championship game, and several pieces of artwork from his three young children.
The 36-year-old arrived from the private sector in October 2012 and is beginning to put his stamp on the government agency that guides city development. Among his goals: Transform vacant or idled city-owned properties into tax-generating developments.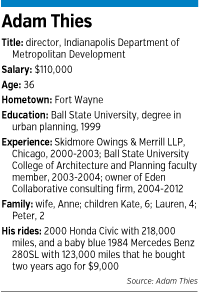 Thies doesn't view his bluntness as a negative. He simply doesn't like to dance around the facts, like the city's need for more inspiring architecture.
He sees the city's selection of Flaherty & Collins Properties to build an $81 million, 28-story apartment tower with 40,000 square feet of retail space on a portion of the former Market Square Arena site as a good start to addressing the city's design deficiencies.
And the wheels are turning on a proposed $5 million redevelopment of the former Central State Hospital campus on West Washington Street. Plans call for a mix of uses, including student housing, event space, office and industrial space, and even the possibility of a brewery.
But the job has not been without challenges. In May, two employees of the department were indicted on fraud charges relating to a fraud scheme involving the Indy Land Bank. And in September, the department trimmed five positions, or more than half its long-range-planning staff.
Like other cities, Indianapolis grapples with budget constraints as revenue has fallen during the economic downturn. Planning departments many times are the first to absorb reductions, making what Thies wants to achieve that much more difficult.
In his short time on the job, however, he's impressed urban planning and design critic Aaron Renn, who writes the Urbanophile blog.
"He has a good reputation as a guy who puts together practical but achievable plans as opposed to crazy and unrealistic expectations," Renn said.
Giving public service a shot
The carrot-topped Thies, who has sported a beard continuously since the age of 18, grew up in Fort Wayne, the son of two schoolteachers. His mother and father both taught him at the same parochial school. His mom in kindergarten, before she spent 20 years as an elementary school principal, and his dad in sixth grade.
He played football, basketball and golf at Fort Wayne Concordia but acknowledged that he was not a star athlete by any means.
Thies helped his father install roofs and construct room additions in the summer and later worked for a landscaper.
He earned a degree in urban planning in 1999 from Ball State University and landed in Chicago at the Skidmore Owings & Merrill LLP architectural and engineering firm, assisting clients on large development projects. Thies returned to Indiana in 2003 to spend a year teaching at BSU before launching his Eden Collaborative landscape architecture and urban planning consulting firm.
The small company grew to billing $500,000 a year and landing contracts with the city of Indianapolis.
Ryan Vaughn, Mayor Greg Ballard's chief of staff, first met Thies while Vaughn was a city-county councilor. Eden later helped the city search for sites for an IndyGo transit hub proposed to be built on a parking lot along East Washington Street between the Marion County Jail and the City-County Building.
About that time, Vaughn was charged with finding a replacement for Maury Plambeck, who retired as director of metropolitan development but since has rejoined the staff as zoning administrator.
Ballard wanted someone who could help "raise the game" on city development, Vaughn recalled. He conferred with Thies about the vacancy—initially not to offer him the job but instead to seek advice on candidates. But it soon became apparent to Vaughn that Thies was his guy.
"He pushes designers to do more," Vaughn said. "Not that any of [the design] was bad, but you can always tweak it."
Thies' first test in his pursuit of better design came with the selection of Flaherty & Collins for the Market Square project. The city is committing $17.8 million to the project by issuing bonds that will be paid for with tax increment financing funds.
CEO David Flaherty said Thies and fellow committee members voiced strong opinions during interviews on what a tower at the site should look like.
"Does it make a developer's life tougher? It may," Flaherty said. "But if you're looking at what's best for the city of Indianapolis, it's hard to argue with it."
Construction on the tower should begin early next year and be completed in 2016.
"For us, we're excited because he is expecting all of us in the design community to design better projects," said Drew White, a founding partner of Axis Architecture + Interiors.
Disbanding Eden cost Thies a $96,000 city contract, and perhaps most important, a salary higher than the $110,000 he currently earns.
But he has no regrets. "I get paid well," he said.
Well enough for his wife to stay home and raise their children in an older home in the Nora neighborhood near 82nd Street and Westfield Boulevard. His wife, a marathon runner, has quick access to the nearby Monon Trail.
Hit by scandal
Thies described his leadership style as hands-on but not to the point of micro-managing. Yet nothing could have prepared him for the scandal that rocked his 75-person department earlier this year.
Reginald T. Walton, who led the Indy Land Bank, and John Hawkins, a senior project manager for DMD, were charged in May in a fraud scheme in which victims of a real estate scam overpaid for properties.
The land bank is a municipal agency that handles the disposition of vacant and tax-delinquent homes that fall into city hands.
Walton and Hawkins are two of five defendants that have been indicted in U.S. District Court for the Southern District of Indiana on 11 counts of wire fraud, bribery and conspiracy charges.
Thies said he chose not to suspend or fire Walton's supervisor because he didn't feel it was her responsibility to read Walton's private phone messages that allegedly linked him to the fraud.
"A lot of us trusted that Reggie was doing the right thing," Thies said. "You either trust your employee or you don't."
Because of funding issues, Thies said, he won't replace Hawkins. His plan is to broaden the duties Walton handled by branching out beyond abandoned buildings with a new title of real estate asset manager. The city has about 1,100 properties in its inventory.
Thies said he has set up "crystal-clear communication" between him and his staff to help fend off future problems.
On most mornings, Thies gets started early, preferring to grab coffee before work rather than a cocktail afterward when someone requests his time.
"A big part of my personal life is my kids," he said. "I'm extraordinarily committed to being in their life."
Hence the reminders hanging on his office wall.•
 
Please enable JavaScript to view this content.